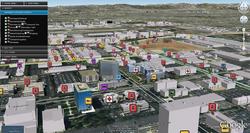 "The 3DBizMap gives cities the opportunity to be innovative in delivering their city data to the public."
El Segundo, CA (PRWEB) March 25, 2010
CyberCity 3D announced today the launch of 3DBizMap.com for El Segundo, CA—the first scalable, web-based, economic development portal designed to assist city and urban growth efforts.
CyberCity 3D, a 3D-geospatial application service provider headquartered in El Segundo, CA, built this innovative web portal utilizing 3D buildings, city information, and business content to display on Google Earth™ through the Google Earth™ API plug-in.
The 3DBizMap can be used to attract new businesses, enhance and promote a city, and provide current businesses with local marketing and advertising opportunities.
Key features of the City of El Segundo site (http://www.3dbizmap.com/elsegundo) include: 5,166 3D city models and building customization, business listings, business search, links to business websites, "real time" building space availability, video through YouTube™, and up-to-date city news.
"3D is a groundbreaking approach that not only showcases our existing businesses and amenities, but entices prospective, new enterprises to come here," said El Segundo Assistant City Manager Bill Crowe. "What better way to promote El Segundo, 'The City That Invests in You'."
CyberCity 3D customizes its engaging, template-based 3DBizMap.com websites for each city, creating a geospatial 3D city model that's deployed on Public Google Earth™ through the Google Earth™ API plug-in. It then hosts the website portal that integrates city business data on the 3D built environment on http://www.3dbizmap.com/cityname. Hosting services include database management and updates as well as monthly city data reports that provide portal search and link histories.
The business map portal is a logical extension of CyberCity 3D's business, extending city map data to web 3D environments.
"Our 3D portals visually represent each city in an engaging and immersive way," states Jackie Murphy, CyberCity 3D's Director of Product Management. "The 3DBizMap gives cities the opportunity to be innovative in delivering their city data to the public."
ABOUT CYBERCITY 3D:
CyberCity 3D (http://www.cybercity3d.com) specializes in emerging GeoWeb planning, advertising and marketing solutions for government agencies, travel destinations, residential and commercial real estate, the environment, and geographic information systems (GIS).
CyberCity 3D is one of the first to offer realistic, three-dimensional, building and city models through the Google Earth™ API plug-in, and is one of Google Earth's™ largest 3D building content providers.
###