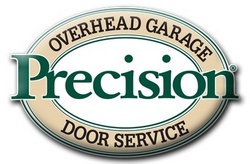 Most people don't really consider the garage as a part of the house because it is not a living space
Greenville, SC (Vocus) March 25, 2010
Rich Battistini, Owner of Precision Garage Door, stresses the importance of seasonal energy efficiency of garage doors, even for homes across the South.
As winter 2010 has shown, not even the South is safe from frigid temperatures and even snow and icy weather. They have had inches and feet of accumulated snow, extended periods of below-freezing temperatures and wind gusts that are unusual for the time of year. Garage doors in North Carolina, Virginia, South Carolina and Tennessee should be winter-weather ready to create a more energy efficient home and a lower utility bill.
"Most people don't really consider the garage as a part of the house because it is not a living space," says Battistini. "Even so, attached garages can have a huge impact on the temperature of your living spaces, making them several degrees cooler than they need to be which also makes the heater run more often."
Precision Garage Door Virginia, Tennessee and other locations across the South offer these tips to maximize their energy efficiency:

Keep the door closed - Simple and effective. Unless there is a reason the door needs to be up, keep it closed and that acts as an additional barrier to the interior of the home. This is especially important because the entrance to the house is typically an interior door which does not provide its insulation.
Install weather-stripping - Seal the areas around the garage door and the entrance door to the house. This keeps out colder temperatures but also bugs, vermin and litter from the outdoors.
Seal vents and air ducts - Leaky ducts are a drain on the heating system and are responsible for significant air loss (up to a 20% loss.) This makes the system work hard. It is important to make sure the ducts are sealed and insulated, especially above the non-heated portions of the home.
Insulate the door - There are insulation kits that can be used on existing doors. It is important to use an Energy Star compliant rated insulation for maximum efficiency.
Upgrade - Install a new model designed with energy-efficient materials.
"These are inexpensive steps to reduce your energy bill, but if you need to make a larger investment, like replacing an old, inefficient door, you can still save some money," says Battistini. "Now until December 31, 2010, the government is offering a tax credit for anyone who installs an Energy Star compliant door."
These days, everyone is looking for ways to save money and one way is to "weatherize" the garage. South Carolina residents and the rest of the South have been bombarded with unusually cold weather and are seeing power bills like never before. Precision Garage Door offers these tips for "weatherizing" the garage. Tennessee and other southern states can rely on them to provide the right products to help them maximize their home's energy efficiency.
Precision Garage Door of NC, SC, TV and VA is a full-service garage door company specializing in installation, repair, replacement and maintenance of garage doors and garage door openers. Precision Garage Door opened in 2002 and proudly serves Upstate South Carolina, Western North Carolina, the Tri-Cities Area in Tennessee and Southwest Virginia. For more information please visit precision-door.com.
###