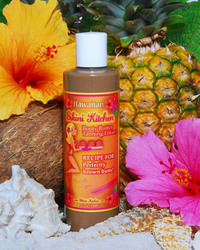 We call Booty Butter the instant gratification tanner
Tampa, FL (PRWEB) March 24, 2010
Turtlenecks and pasty skin are passé. The sun is out, the bronzed look is in, and beach bunnies need a tan yesterday. To appease those seeking that spring glow, Bikini Kitchen is offering their Booty Butter Tanning Lotion at a ten percent discount for a limited time. Praised by beauty editors and bloggers worldwide for its quick efficacy, Booty Butter noticeably darkens skin within an hour of application.
"We call Booty Butter the instant gratification tanner," says Karrie Pettit, Bikini Kitchen CEO. "Apply it evenly, and you'll spend less time tanning and more time with golden skin."
That news is welcome to anyone worried about the harmful effects of UVA and UVB rays. An alternative to tanning beds, streaky self-tanning lotions and temporary bronzing powders, Booty Butter is formulated to enhance all skin types with a healthy glow. Even fair-skinned beach babes and beaus, who use the tanning lotion in conjunction with SPF sunscreen, see amazing results.
The key is moderation. As the developers of Booty Butter, Bikini Kitchen founders recommend using their product as directed and tanning responsibly. To this end, they continually stock their Web site with informative tanning tips and a surprising look at the history of tanning. Client product reviews and secure online payments are site mainstays.
"Whether you're looking for a full-sized bottle of Booty Butter to sustain you for the entire spring and summer seasons or a sample size to last you through a tropical vacation, we guarantee satisfaction," Pettit says.
Visit http://www.bikinikitchen.com anytime from March 24-30 to enjoy the discounted price on Booty Butter, and learn how you can tan quicker and deeper than ever before. Pay less, tan quicker. It's the mantra that inspired Booty Butter.
Founded in 2008 by Karrie Pettit and Chris Mueller, Bikini Kitchen is a Florida-based consumer product company dedicated to bringing new, innovative products to the marketplace for fun in the sun. For further information please visit http://www.bikinikitchen.com.
###