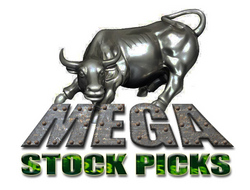 Pozen, Inc. is a well diversified company with an exciting new drug, Vimova, which we believe should receive a positive response from the FDA. MegaStockPicks.com has built an exceptional reputation on alerting the most successful Pharmaceutical stocks.
New York, NY (PRWEB) March 25, 2010
Mega Stock Picks, a reputable internet-based free subscriber newsletter, announced today that they are initiating full coverage on pending FDA Approval of Vimovo by POZEN, Inc. (NasdaqGM: POZN). Sign up for Mega Stock Picks free subscriber newsletter at http://www.megastockpicks.com.
Widely known for its successful stock alerts which focus mainly on pharmaceutical and undervalued penny securities, Mega Stock Picks has issued a strong buy alert for POZN with a 6 month price target of 25.00. Mega Stock Picks has given POZN its strongest buy recommendation.
Pozen, Inc (POZN) is currently one of the top performing stocks in the small-to-mid cap biotechnology industry. We believe this company is well diversified and financially sound with current collaborations with GlaxoSmithKline (NYSE: GSK), over $46 million in cash available and potentially more coming in April 2010 from a collaboration and license agreement with AstraZeneca (NYSE: AZN) for the US approval of its pending FDA approved drug, Vimovo.
Vimovo, a combination pill of naproxen (Aleve) and immediate release esomeprazole (Nexium), for arthritis patients (the addition of esomeprazole reduces the risk of stomach ulcers), is up for FDA decision on April 30th, 2010 and Mega Stock Picks believes this exciting new drug will receive a positive response.
Mega Stock Picks has built a reputation on alerting the most successful Pharmaceutical stocks prior to FDA approval such as VNDA, KERX, and CTIC. To sign up for these alerts, please visit http://www.megastockpicks.com.
About POZEN, Inc.
POZEN Inc. engages in the development of pharmaceutical products for the treatment of acute and chronic pain, and other pain-related conditions. The company has a collaboration agreement with GlaxoSmithKline for Treximet, which is used for the acute treatment of migraine attacks with or without aura in adults; and a collaboration and license agreement with AstraZeneca for VIMOVO, a proprietary fixed dose combination of the proton pump inhibitor esomeprazole magnesium with the naproxen in a single tablet for the management of pain and inflammation associated with conditions, such as osteoarthritis and rheumatoid arthritis in patients who are at risk for developing non-steroidal anti-inflammatory drug-associated gastric ulcers. It also develops PA32540, a Phase III clinical trial product, which is a combination of a proton pump inhibitor and aspirin for the secondary prevention of cardiovascular disease in patients at risk for gastric ulcers. The company was founded in 1996 and is headquartered in Chapel Hill, North Carolina.
Megastockpicks.com ("website") has not been compensated, rather they have initiated their own independent research on Pozen Inc. The website is not an investment advisory service, nor a registered investment advisor or broker-dealer and does not purport to tell or suggest which securities customers should buy or sell for themselves. You understand and acknowledge that there is a very high degree of risk involved in trading securities. The website, the authors, the publisher, and all affiliates of website assume no responsibility or liability for your trading and investment results. Factual statements on the website, or in its publications, are made as of the date stated and are subject to change without notice. It should not be assumed that the methods, techniques, or indicators presented in these products will be profitable or that they will not result in losses. Examples presented on Megastockpicks.com's website are for educational purposes only. Such set-ups are not solicitations of any order to buy or sell. Accordingly, you should not rely solely on the Information in making any investment. Rather, you should use the Information only as a starting point for doing additional independent research in order to allow you to form your own opinion regarding investments. You should always check with your licensed financial adviser and tax adviser to determine the suitability of any investment. Please view full disclaimer at the website.
###