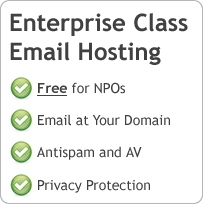 Greatmail's privacy policy protects your email addresses and gives your users advertisement free webmail.
Houston, TX (PRWEB) March 30, 2010
Email hosting provider Greatmail LLC is offering non-profit organizations free basic email hosting for up to 50 users. This fully managed service allows non-profits to have email accounts at their domain hosted on Greatmail's enterprise class infrastructure developed specifically for high availability email service.
The basic email hosting service is provided free of charge provided the non-profit organization has a web site and agrees to post a Greatmail technology partner link at the bottom of the organization's home page or on another approved page. Additionally, non-profits can receive discounts upgrading to Greatmail's premium email hosting platform including increased server storage, hosted Microsoft Exchange and SharePoint hosting.
The free email hosting includes both POP3 and IMAP access, SMTP with authentication, spam filtering, antivirus protection, webmail and web based account administration. All Greatmail hosting plans are protected by the company's privacy policy that strictly prohibits scanning of messages for content driven marketing and advertisements.
Greatmail provides comprehensive email solutions for businesses and organizations worldwide. In addition to the company's flagship email hosting service, Greatmail offers web and application hosting, dedicated server hosting, server clustering, reseller email hosting, SMTP servers, and high volume email hosting.
Greatmail's servers are located at climate-controlled facilities equipped with complete power protection via on-site UPS and diesel generators, pre-action fire suppression, major internet backbone connections, 24-hour network supervision by qualified technicians and automated system monitoring.
For more information, please visit our email hosting service overview. Or to register a free email hosting account for your non-profit organization, contact us online.
One of the email hosting sector's first providers, Greatmail has been providing email hosting and related technology services since 2002. To learn more about Greatmail, please visit our home page at greatmail.com.
###