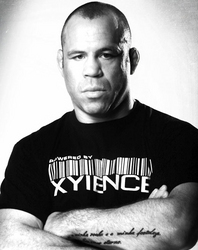 It's not often that UFC fans get an opportunity to meet an athlete the caliber of Wanderlei Silva, and it's an honor to be hosting this event with XYIENCE at our Tempe store
Las Vegas, NV (Vocus) March 26, 2010
XYIENCE, the official energy drink of the Ultimate Fighting Championship (UFC), brings legendary fighter Wanderlei Silva to Albertsons in Tempe, Ariz. on Saturday, April 3. Silva will meet fans and sign autographs at Albertsons on 750 E. Guadalupe Street from 11 a.m. to 1 p.m.
The Brazilian-born Silva has achieved iconic status in the world of mixed martial arts (MMA), stacking up 33 wins, most of them by knockout, in his illustrious career. He is one of the most widely recognized and esteemed MMA fighters internationally. Since 2008, Silva has been an ambassador for XYIENCE and the face of the brand's energy drink, Xenergy Premium, which Albertsons stores in Arizona started carrying earlier this year. In addition to an opportunity to meet the star, fans will receive a poster of Silva designed especially for the event.
"It's not often that UFC fans get an opportunity to meet an athlete the caliber of Wanderlei Silva, and it's an honor to be hosting this event with XYIENCE at our Tempe store," says Danny Semerjibashian, grocery sales manager for Albertsons. "Albertsons customers and UFC fans can try Xenergy Premium and even have Silva autograph their drink can when they make their purchase at the store that day. It's sure to be an exciting event."
Silva's personal appearances are known to draw huge crowds, even outside of MMA events. "Utilizing our professional athlete brand ambassadors is a part of how XYIENCE supports its retailers, helping them to generate excitement about our brand while creating a great experience for the customer," says Reuben Rios, XYIENCE's vice president of U.S. sales. "Wherever he goes, be it a beverage industry tradeshow or an MMA-related appearance, there is always a nonstop line of fans, or parents of UFC fans, who are thrilled to meet Wanderlei. We're certain this event will be no different. We look forward to a huge turnout and success for Albertsons and XYIENCE."
XYIENCE's other athlete brand ambassadors include UFC fighters Matt Serra and Dan Hardy. Serra is a former UFC welterweight champion, and Hardy will fight the current UFC welterweight champion, Georges St. Pierre, at UFC 11 on April 27, 2010 at the Prudential Center in Newark, N.J.
Through televised broadcasts of UFC events, the XYIENCE brand reaches some 100 million-television households in North America. As a part of XYIENCE's UFC sponsorship relationship, its logo receives prime positioning on the mat and bumpers of the octagon. This often results in a fight's critical moments taking place on or next to the XYIENCE and Xenergy logos, and translates into millions of viewer impressions for XYIENCE. Internationally, XYIENCE reaches more than 420 million television households via UFC broadcasts and Pay-Per-View broadcasts.
About XYIENCE
XYIENCE nutritional products provide clean, sustainable energy necessary for an active lifestyle. Established in Las Vegas in 2004, XYIENCE is one of the fastest-growing brands in its category. All products are held to the most stringent standards of excellence to enable professional and amateur athletes and fitness enthusiasts to reach their goals in training and life.
Xenergy (A combination of Zen and Energy, pronounced "Zen-ergy")
XYIENCE supports the mixed martial arts lifestyle. Its energy drink, Xenergy, and its energy shot, X Shot, are the official energy drink and energy shot of the Ultimate Fighting Championship (UFC). The first energy drink created by a nutrition company, Xenergy has zero calories and is a sugar-free drink fortified with vitamins. All-natural flavors provide a consistent supply of energy, sans the "crash" inherent with most other energy drink brands. Xenergy Premium Energy flavors include Cherry Lime, Cran Razz, Mango Guava and Blu Pom. Xenergy Xtreme Energy flavors include Lemon Blast, Citrus Slam, Cherry Rush and Apple Jak'd. Xenergy is available in retail stores throughout the United States and Canada. Visit http://www.xyience.com for details.
XYIENCE Supplements
XYIENCE supplements provide ultimate nutrition for peak performance. With everything from NOX-V2—for increasing strength and stamina and aiding in post-exercise recovery—to high-quality protein supplements such as the XY-PRO, an advanced protein complex or the XM2 muscle meal, XYIENCE offers products scientifically formulated for specific training needs.
About Albertsons LLC
Albertson's LLC aims to become the favorite food and drug retailer in every market it serves. The company employs more than 20,000 associates and operates under the Albertsons banner in Arizona, Arkansas, Colorado, Florida, Louisiana, New Mexico, and Texas.
###