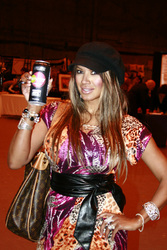 While we were prepared to introduce people to our brand, instead we found that many celebrities are big UFC fans and regular Xenergy drinkers
Las Vegas, NV (Vocus) March 26, 2010
XYIENCE recently discovered that big-name mixed martial arts athletes are not the only celebrities in its fan base: Xenergy, the official energy drink of the Ultimate Fighting Championship (UFC), has also achieved celebrity status in Hollywood. On Saturday, March 6, XYIENCE mixed and mingled with television, movie and sports stars as a part of an off-site celebrity gift lounge at Universal Studios in Los Angeles prior to the 82nd Annual Academy Awards. XYIENCE's star product showcased Xenergy Premium and Xenergy Xtreme to attendees that included Academy Award nominee and Golden Globe winner Angela Bassett, "90210" star Anna Lynne McCord and Willie Garson, who starred as Stanford in the hit HBO series "Sex and the City." Well-known athletes, such as Olympic silver medalist Sasha Cohen and NFL players Terrell Owens and Nick Barnett were also on hand at the star-studded event.
Jessica Lautman-Hughes, XYIENCE's senior marketing specialist, was thrilled to discover that Xenergy is how some celebrities keep pace with their hectic lifestyle. "While we were prepared to introduce people to our brand, instead we found that many celebrities are big UFC fans and regular Xenergy drinkers," explains Lautman-Hughes. "In a crowd of people who are accustomed to enjoying the finest brands in food and beverage, it's rewarding to know that it's Xenergy's taste that made fans out of these celebrities."
Through televised broadcasts of UFC events, the XYIENCE brand reaches some 100 million-television households in North America. As a part of XYIENCE's UFC sponsorship relationship, its logo receives prime positioning on the mat and bumpers of the octagon. This often results in a fight's critical moments taking place on or next to the XYIENCE and Xenergy logos, and translates into millions of viewer impressions for XYIENCE. Internationally, XYIENCE reaches more than 420 million television households via UFC broadcasts and Pay-Per-View broadcasts.
About XYIENCE
XYIENCE nutritional products provide clean, sustainable energy necessary for an active lifestyle. Established in Las Vegas in 2004, XYIENCE is one of the fastest-growing brands in its category. All products are held to the most stringent standards of excellence to enable professional and amateur athletes and fitness enthusiasts to reach their goals in training and life.
Xenergy (A combination of Zen and Energy, pronounced "Zen-ergy")
XYIENCE supports the mixed martial arts lifestyle. Its energy drink, Xenergy, and its energy shot, X Shot, are the official energy drink and energy shot of the Ultimate Fighting Championship (UFC). The first energy drink created by a nutrition company, Xenergy has zero calories and is a sugar-free drink fortified with vitamins. All-natural flavors provide a consistent supply of energy, sans the "crash" inherent with most other energy drink brands. Xenergy Premium Energy flavors include Cherry Lime, Cran Razz, Mango Guava and Blu Pom. Xenergy Xtreme Energy flavors include Lemon Blast, Citrus Slam, Cherry Rush and Apple Jak'd. Xenergy is available in retail stores throughout the United States and Canada. Visit http://www.xyience.com for details.
XYIENCE Supplements
XYIENCE supplements provide ultimate nutrition for peak performance. With everything from NOX-V2—for increasing strength and stamina and aiding in post-exercise recovery—to high-quality protein supplements such as the XY-PRO, an advanced protein complex or the XM2 muscle meal, XYIENCE offers products scientifically formulated for specific training needs.
###