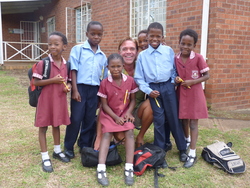 Visiting and playing with the children living at the SOS Children's Village was truly a day that I will never forget and was such a moving experience for myself and many of our Cruise Specialists world cruise clients to participate in
Seattle, WA (PRWEB) March 25, 2010
A group of kindhearted world cruisers recently opted to forgo a more traditional shore tour in Durban, South Africa for the opportunity to visit and donate much needed supplies to a children's orphanage as part of the Cruise Specialists Cares shore excursion program. The philanthropic travelers hauled 17 boxes of supplies for the orphaned children with them all the way from Ft. Lauderdale on the Holland America ms Amsterdam.
"Visiting and playing with the children living at the SOS Children's Village was truly a day that I will never forget and was such a moving experience for myself and many of our clients to participate in," described Tom Baumann, president of Cruise Specialists. "The children were incredible and it was touching to see how much their eyes lit up in amazement and gratitude at the simple toys and gifts we had brought for them."
In addition to donating much needed supplies such as clothing and personal hygiene items for the 150 children living at the Children's Village, the Cruise Specialists travelers also brought boxes filled with soccer balls, books, pens and pencils, notebooks, construction paper and play-dough. According to Baumann, many of his clients on the tour were so touched after meeting the joyful and spirited children that they even gave them the jackets off their backs to help stay warm during the cold months of the year.
After unloading all of the donations and distributing them to each stand alone house at the Children's Village, the cruisers were taken on a tour and treated to a lively concert put on by the children. "All in all it was a very special day that we got to spend with the children and it was extremely fulfilling to be able to give back to an underprivileged community in a country we were visiting in some small way," added Baumann.
The luxury travel agency launched their Cruise Specialists Cares shore excursion program last year and plans to offer similar meaningful shore excursion options linked to a cause in Thailand (outside of Bangkok) on the upcoming 2010 Holland America Grand Asia Voyage and in Chile (outside of Santiago) on the 2011 Holland America Grand South America Voyage.
The agency's dedicated shore excursion department provides clients with unique and memorable experiences visiting destinations around the globe. For more information on any future sailings and shore excursions offered by Cruise Specialists, visit http://www.CruiseSpecialists.com or call 800-544-2469.
###