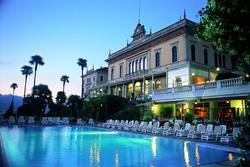 "We look forward to welcoming you to our home and this wonderful resort which offers the best life has to offer - in the true Italian Style of La Dolce Vita". Gianfranco Bucher - Owner & Proprietor Grand Hotel Villa Serbelloni, Bellagio Lake Como
New York, NY (PRWEB) March 26, 2010
Grand Hotel Villa Serbelloni, the only 5-star luxury hotel in Bellagio, is one of the most elegant resorts on Lake Como. Owned and operated by the Bucher family for generations, the Buchers maintain their tradition of providing elegant and palatial surroundings while constantly updating their services. Villa Serbelloni annually receives the highest accolades from Conde Nast Traveler, Travel and Leisure, the New York Times and other prestigious travel chroniclers.
Located in the foothills of the Alps, GHVS has been referred to by generations of Italians as the Monte Carlo of northern Italy, offering its guests the perfect balance of refinement, relaxation and activity. The hotel, which dates from 1850, was originally intended as a holiday villa. When two wings were added in 1873, the Grand Hotel became a holiday home for the cream of European aristocracy who would alternate picnics and trips on the lake with sumptuous balls in the splendid salons.
With 73 sumptuous rooms and 22 spacious suites, with high frescoed ceilings and extraordinary views of the Lake or the private park, the hotel provides the ultimate in comfort with a full complement of activities and services. From stretching out at poolside sipping a drink, to playing tennis or golf, to taking excursions on foot or by boat along the Lake, to shopping in the charming center of Bellagio with its elegant boutiques and local craft shops -- a stay at the Grand Hotel Villa Serbelloni is unforgettable.
The Villa Serbelloni Spa offers two fully equipped spaces for fitness and beauty. The gym includes areas dedicated to cardio-fitness with Techno gym equipment as well as a squash court, sauna, Turkish bath and booths for massage. Aerobics, Yoga and Private Trainers are also available. Exquisite beauty treatments using extracts of fruits and vitamins, mud and algae treatments and deep massage are all available. There are numerous programs one can select -- from one to seven days in length.
Terrazza Restaurant and Mistral Restaurant have each been recognized for their innovative cuisines and offer guests both traditional and casual dining experiences. Buon appetito.
The Grand Hotel Villa Serbelloni achieves that rare balance between respect for the past and appreciation of the new…a destination in itself with much around it to do. Allow us to help you plan an unforgettable visit.
For Information: http://www.villaserbelloni.com - Email: inforequest(at)villaserbelloni(dot)com
The Americas: Contact USA: info(at)tcghotels(dot)com or 800-860-7682 or212-351-5007
###