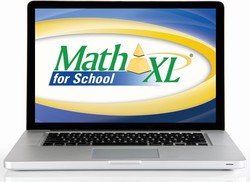 Accelerating math education for our nation's students continues to be a critical concern of educators, legislators and communities. Among the prime strategies identified for ensuring that all students graduate from high school with the ability to succeed in higher level math is targeted intervention
Boston, MA (PRWEB) March 25, 2010
Pearson's MathXL® for School is a finalist for the 2010 Software & Information Industry Association (SIIA) CODiE Awards. This powerful, yet affordable, Web-based program that offers homework, tutorials and assessment tools for math is a finalist in the Best Mathematics Instructional Solution category.
Established in 1986, the CODiE Awards celebrate outstanding achievement across the software, digital information and education technology industries. The comprehensive review process of nominated products included intense scrutiny by subject matter experts, education industry analysts, journalists and specialists in the implementation of education technology.
Thousands of middle and high school students around the country are building math skills with MathXL for School. The online program gives students personalized, hands on practice supported by interactive study aids to accelerate their mastery of core math skills. MathXL for School has a proven track record of increasing student success rates at both online and brick-and-mortar schools. Its engaging online interface is a great motivational tool for students at all levels and the instantaneous feedback and multiple embedded multimedia resources provided by MathXL for School hold students' attention while keeping them on task.
"Accelerating math education for our nation's students continues to be a critical concern of educators, legislators and communities. Among the prime strategies identified for ensuring that all students graduate from high school with the ability to succeed in higher level math is targeted intervention," said Mike Evans, Pearson's Senior Vice President and General Manager, K-12 Mathematics. "As a finalist in the prestigious SIIA CODiE Awards, MathXL for School is an outstanding example of the ways that technology can provide a personalized instructional experience for students that engages and motivates them to learn."
In support of Pearson's overall commitment to personalized learning, MathXL for School features an individualized study plan based on pre- and -post assessments that helps students monitor their own progress, letting them see at a glance exactly which topics they need to practice and linking them directly to tutorial exercises with interactive learning aids. Exercises can be regenerated with new values for unlimited practice.
MathXL for School is correlated to more than 300 of Pearson's secondary and higher education textbooks at the chapter, section and objective levels yet is flexible enough to be used with any high school program. Teachers easily create and manage online homework assignments, quizzes and tests that are automatically graded and track performance in an online gradebook. Assignments can be customized to focus on specific skills, making it a helpful tool for struggling students.
Pearson had 13 education finalists in the CODiE Awards this year, leading the competition. Pearson's innovative ed-tech solutions for schools, colleges and universities are recognized across the awards program's education categories, honoring the company's worldwide leadership in harnessing technology to personalize and improve learning. Pearson's 13 finalists were chosen from more than 327 education nominations submitted by 124 companies.
In addition to MathXL for School, Pearson's other finalists are: CourseConnect™, eCollege (now known as Pearson LearningStudio), Mastering Platform, Miller & Levine Biology™ Digital Path , MyCourse, MyMathLab, MyWritingLab, myWorld Geography™, Prentice Hall Literature Online (PHLitOnline) and PowerSchool.
In the next step of the CODiE Awards process, these finalists will now be voted on by the entire SIIA membership to determine the winners in each category. The 2010 CODiE Awards will be announced at the 2010 Ed Tech Industry Summit in San Francisco on May 24.
About Pearson
Pearson (NYSE:PSO), the global leader in education services, education technology and school solutions, provides innovative print and digital education materials for preK through college, student information systems and learning management systems, teacher professional development, career certification programs, and testing and assessment products that set the standard for the industry. Pearson's other primary businesses include the Financial Times Group and the Penguin Group. For more information, go to http://www.pearsoned.com.
For more information, press only:
Kate Miller, Pearson, 800-745-8489
###