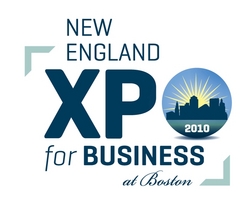 The show attracts strong support from the country's leading media, trade associations, government agencies, business organizations, minority councils, corporate sponsors and municipalities
Boston, MA (PRWEB) March 25, 2010
More than 10,000 business professionals are expected to attend the Second Annual New England XPO for Business at Boston, the largest and most comprehensive B2B networking conference in New England. The XPO will take place from 8:30am until 5:00pm on May 18, 2010 at the Boston Convention & Exhibition Center. The XPO, which is free to attend, will feature hundreds of exhibitors, over 36 complimentary educational seminars, unlimited networking and valuable special events to support business growth.
Marc Sherer, President of Event Management, said that the show attracts strong support from the country's leading media, trade associations, government agencies, business organizations, minority councils, corporate sponsors and municipalities.
"The overall objective of the event is to connect executives and independent owners with leading companies that offer unique solutions to running effective, stable and profitable businesses," Sherer stated.
The New England XPO for Business offers multiple opportunities for business professionals from throughout the region to meet and network. The XPO kicks off with The Boston Globe "Future of Boston" Business Breakfast and is followed by a special investment seminar by CNBC's Senior Business Analyst and Commentator, Ron Insana. This day of business building will conclude with the WBZ After-Hours Networking Event, the largest business mixer in state history!
In addition to the special events, the show floor will house many unique features to round out the offerings of the XPO to make it the most comprehensive business event in New England.
Show features include the AT&T Demonstration Arena, where attendees can discover the latest mobile applications and technologies; the Executive Show Floor Theater, which will include two live tapings of the hit NECN show "CEO Corner"; the Business Resource Pavilion, the largest information hub at the XPO featuring experts from over 22 leading city, state and federal agencies; and the Comcast Business Class Entertainment Center, where attendees can receive free coffee and check their email in plush furniture provided by AFR Furniture Rental.
The show floor will buzz as approximately 10,000 attendees tour more than 300 business exhibits and participate in their choice of 36 free seminars offered by high-profile speakers and industry leaders. Vital seminar topics include social media, technology, healthcare, sales, marketing, advertising, financing, best business practices, capital access, email marketing, international trade and much more. The seminar schedule may be viewed by visiting http://tinyurl.com/ygfljxl.
Admission to the New England XPO for Business is free and, and the business community is invited to attend. Interested participants may pre-register at http://tinyurl.com/yj3ofxv. Attendees who register online before May 3rd will receive their badge in the mail and can avoid having to wait in line the day of the show.
The 2010 New England XPO for Business is presented by AT&T and Eastern Bank and supported by Comcast Business Class, Constant Contact, Associated Industries of Massachusetts, Boston Globe Media, New England Cable News, 96.9 Boston Talks, AFR Furniture Rental, Joulé Staffing Solutions and DGI-Invisuals, LLC.
Booth space is still available but limited, so call 866-44-EVENT or visit http://tinyurl.com/ylaxv2s. For sponsorship information, please visit http://tinyurl.com/yzupm7m.
About Event Management: Event Management LLC is a Connecticut-based firm with over 20 years of experience in the production of major business shows and special events. Event Management produces trade shows throughout New England and New York. For additional information, visit http://www.EventManagement.org.
# # #