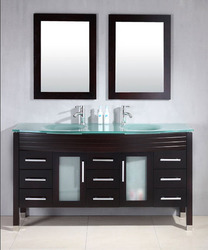 Todd Harmon: "We adopted a more effective method of advertising for our website,
Solana Beach, CA (PRWEB) March 25, 2010
Despite an economy that seems to be perpetually floundering, BathGems.com has been steadily growing with a brand new business model and a more hands-on approach to e-commerce.
The online store, a longtime leader in the bathroom vanity and appliance market, has struggled through an economic climate that has proven less than conducive to the sale of top-tier luxury items; but the web retail shop has managed to stay head and shoulders above the competition.
"For a while, there was some apprehension," says Todd Harmon, president of BathGems.com, "because the economy was turbulent, people were less willing to invest in our products, and we saw some slow-down in sales."
But then, BathGems.com began to show signs of life. Says Harmon: "We adopted a more effective method of advertising for our website, and with a little SEO know-how, we were able to recuperate and rank near the top of the charts on several prominent search engines."
This new SEO strategy was coupled with an investment in higher-quality products to significantly boost web traffic. "At BathGems, we are absolutely committed to giving the customer only the best in bathroom furnishings. To that end, we started working more closely with our suppliers and helped them design a better product, which we could then deliver to our customers," said Harmon at a recent press conference.
The company also hired more employees to improve the efficacy of operations, and to promote and provide the pinnacle of customer service.
Despite these new strategic investments in better-quality products and services, BathGems has managed to keep their prices relatively low.
"We offer some of the finest, most luxurious bathroom vanities in the world. I really believe that," says Harmon, "but we also believe that our incredible products should come with a reasonable price tag, so that they can be enjoyed by a large body of satisfied customers."
After the new hires and improvements to the business model, BathGems began to post impressive gains for an online store in a tough economy. While so many other online businesses have collapsed, BathGems has managed to stay afloat. "We've been doing very well, without having to sacrifice any of our renowned customer service and quality. If anything, we are doing better than ever," says Harmon. "And we are very proud of that."
###