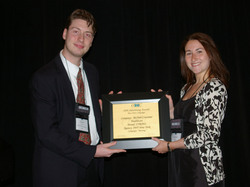 Florham Park, N.J. (PRWEB) March 26, 2010
OTC Perspectives, Inc., the leading conference, training and publishing company for over-the-counter (OTC) marketing, today announced the finalists for the 2nd annual OTC National Advertising Awards, presented in conjunction with the OTC National Conference, May 18-19, in Philadelphia, PA. The award winners will be announced at the OTC National Advertising Awards reception, sponsored by HealthCentral, on the night of May l8, at the Penn's Landing Hyatt in Philadelphia.
Leading healthcare companies and brands will be honored at the awards reception which will showcase the best OTC marketing and advertising campaigns with Gold, Silver, and Bronze awards across eight categories. Brands among the finalist include Vicks, Pepcid, Pepto Bismol, Claritin, Triaminic, Durex, Robitussin, and Zyrtec. For a complete list of award finalists, please visit the 2010 OTC Advertising Awards Website.
"Delegates attending the OTC National Conference will determine the winners for Best Branded TV and Best Branded Print Campaign award," announced Bob Ehrlich, CEO of DTC Perspectives, and OTC National Conference Chairman. "Independent expert judging panels will determine award winners for the other categories."
The OTC National Conference is designed to provide OTC marketers with an opportunity to learn from industry thought leaders and discuss the latest innovations in the industry. Attendees will benefit from case studies, new market research, media & marketing gurus and networking opportunities and this year will include keynote addresses by Jeff Arnold, Founder of Web MD and Chairman of Sharecare; Dr. Jan-Benedict Steenkamp, author of the book "How to Meet the Store Brand Challenge;" and Jim Joseph, President of Lippe Taylor Brand Communications and author of the new book "The Experience Effect." For conference registration, please visit our Website, http://www.OTCPerspectives.com or call Debra Sander at (973) 377-2106 ex 221.
OTC Perspectives, Inc. is the leading conference, training and publishing company specializing in the analysis of over-the-counter (OTC) healthcare product marketing. It is our goal to serve as the premier information exchange forum for OTC marketing thought leaders with the publication of OTC Perspectives magazine as well as through attendance at our Conference Series.
###