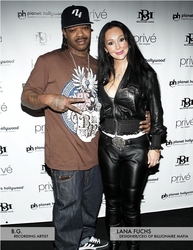 "This year I joined the Billionaire Mafia family, a hot clothing line for gangsters like me," says rap artist, B.G
Las Vegas (PRWEB) March 25, 2010
Billionaire Mafia welcomes rap artist Baby Gangsta into the family, as he endorses and agrees to represent the company's new Legend clothing collection.
Known by his stage name BG, the rapper personalizes the lifestyle of the expanded collection, which for the first time includes the full fashion range of denim, knits, wovens, leathers and tees, jewelry and much more. BG tops off his look with a Billionaire Mafia Power Player ring.
"Billionaire Mafia is the people's mafia," said Billionaire Mafia founder and designer Lana Fuchs. "Our motto is 'work hard, play hard.' We are proud of everything we have because we earned it. BG started from nothing and he made his way to the top. He's a tough guy, but he gives back to the community. I respect that."
A child of New Orleans' Dangerous 13th Ward who lost his father to neighborhood violence, BG received early exposure to drugs, guns and crime. Channeling his youthful energy into music, he became the youngest artist ever to sign with Cash Money records at that time, and in 1993 at age 13 released his debut LP, "True Story."
Two of his works in the 1990s, "Chopper City" and "Bling Bling," catapulted him into rapper stardom. His latest works include "The Heart Of Tha Streetz Vol.1" and "Y'all Heard of Me" with C-Murder. His latest work includes "Too Hood To Be Hollywood," in stores now. It includes his two hot street singles "My Hood" featuring Mannie Fresh and "Back to the Money" featuring Magnolia Chop. "Back to the Money" has a highly anticipated Remix that includes B.G., Baby and Lil Wayne.
"This year I joined the Billionaire Mafia family, a hot clothing line for gangsters like me," B.G. said. "Be on the lookout for me, B.G., coming to a hood near you rockin' my Billionaire Mafia fits. Time to get back to the money--Billionaire Mafia money. I look like money all day, everyday representing Billionaire Mafia."
Fuchs says BG's sponsorship with Billionaire Mafia--which draws its inspiration from the music, art and fashion of the mean streets--is a perfect fit and a natural evolution for the company, whose tagline is, "For Power Players" and aims to bring luxury to the streets at affordable prices. The brand got its start several years ago, with a line of street-inspired graffiti-themed Ts and hoodies.
Legend marks a natural evolution for Billionaire Mafia, Fuchs says. A true lifestyle collection, Billionaire Mafia represents the power player from every walk of life. Designed for our clientele with the ultimate luxury and affordable prices in mind, it goes from day to night, making you look and feel like a true power player, targeting a broader-age-range customer.
"If you're in the game, then you got to be a power player," Fuchs said. "Billionaire Mafia is elegant, luxurious and sexy, but each individual gentleman can add his own swagger to it. I like to dress real men, who know what they want and go after it with a vengeance."
About Billionaire Mafia
Established in the downtown Las Vegas Arts District, the original concept of Billionaire Mafia's charter seemed simple enough to designer Lana Fuchs: pay homage to the music, art and fashion that had so deeply influenced her growing upon the streets of Brooklyn, N.Y., and do it in such a way as to keep the spirit, energy and originality of the streets genuine.
Since then, Billionaire Mafia has grown by leaps and bounds, and has evolved into a lifestyle brand with a product assortment ranging from denim, knits, wovens and leathers to accessories, jewelry and much more, appealing to tastemakers everywhere. Billionaire Mafia headquarters now occupies over 17,500 square feet in the heart of Las Vegas and is getting ready to expand further.
For more information, visit http://www.billionairemafia.com.
###