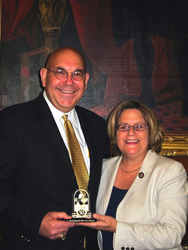 It's important we tell our elected officials what we need to have done in our neighborhoods
Richardson, TX (PRWEB) March 26, 2010
David Berry, Director of Congressional Communications for National Write Your Congressman, presented the NWYC Constituent Service Award to Representative Ileana Ros-Lehtinen from the 18th District in Florida for her commitment to the importance of constituent communications.
For over 50 years, National Write Your Congressman has been encouraging responsible Americans to communicate directly with their elected officials. "It's important we tell our elected officials what we need to have done in our neighborhoods," said Dave Berry. "One letter can make a huge difference."
Congresswoman Ros-Lehtinen can attest to that. She received a letter from one of her constituents Jose Bengochea, a Florida high school student. He wrote to present an idea that would make the state of Florida safer for children. He suggested that the use of cell phones be banned in all school zones.
"I immediately sent letters to our Miami-Dade County Mayor and Commissioners…all of them," said Representative Ros-Lehtinen, "plus the School Board and the Superintendent; plus our entire delegation to the Florida House and Senate. I also discussed it with our school board members, city officials, state legislators and my colleagues in the US House of Representatives. The research began and our legislative engines began to hum," she said.
As a result, many states now ban cell phone use in school zones with fines attached. Federal legislation is also being considered…all because a concerned citizen wrote a letter.
"That is what good constituent communications is all about," said Chris Adamson, President of National Write Your Congressman. "That is why concerned citizens need to write…that is why they need to speak up. Congratulations to Jose Bengochea and Representative Ros-Lehtinen for proving that our form of government works. This is what our Founding Fathers intended when they wrote our Constitution and started it with…We the people…"
"I thank NWYC for urging our constituents to write their Congressman or Congresswoman," said Representative Ros-Lehtinen. "Your email, letter or call could save a life."
About NWYC: National Write Your Congressman is neither a lobby nor a special interest group. It is a non-partisan legislative research firm. For over 50 years it has had one mission and that is to encourage Responsible Americans to quickly and effectively influence their elected officials. For more information, go to http://www.nwyc.com.
###