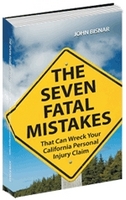 "… Julie Farris, a student at Azusa Pacific University, suffered a severe and permanent brain injury after she was allegedly struck by a trolley that was owned by the university while riding her bicycle to class.
Los Angeles, CA (Vocus) March 25, 2010
The California personal injury lawyers of BISNAR | CHASE (http://www.BestAttorney.com)] have filed a lawsuit against the City of Azusa, Azusa Pacific University and the operator of a trolley on campus property. The complaint for damages for dangerous conditions of public property and motor vehicle negligence was filed after a February 2008 incident in which Julie Farris, a student at Azusa Pacific University, suffered a severe and permanent brain injury after she was struck by a trolley that was owned by the University while riding her bicycle to class. Julie, the plaintiff in this case, brought the action against the aforementioned defendants. The case is currently pending in the Superior Court of California, County of Los Angeles, case #KC055075.
Catastrophic Personal Injuries After Trolley Collides with Bicyclist
According to court documents, Julie Farris was riding her bicycle on the 800 Block of East Foothill Boulevard, between Citrus Avenue on the east end, and the West Campus of Azusa Pacific University campus on the west end, on February 19, 2008. A trolley owned by Azusa Pacific University and driven by a university employee, Oscar Armando Galan, struck Julie causing her to sustain catastrophic personal injuries, including a severe and permanent brain injury.
"We allege Julie suffered severe permanent injuries at the hands of both the City of Azusa and Azusa Pacific University, both of which knew the roadway on which Julie was traveling was unsafe for students." said Brian Chase, a partner at the Los Angeles personal injury law firm, BISNAR | CHASE. "What's equally disturbing is the fact that both the City and the University knew there had been numerous accidents on the roadway and that the majority of university students were riding against traffic, yet did nothing to warn students or the public about these dangers, and did nothing to fix the roadway."
Unsafe Roadways in the City of Azusa
The suit alleges that bicyclists and pedestrians traveling between the east and west campuses of Azusa Pacific University were forced onto a congested, narrow roadway owned, operated and maintained by the City of Azusa. Students frequently traveled this roadway against traffic due to a lack of bike paths, crosswalks and/or traffic signals that would allow students safe travel to and from classes and residence halls. The hazardous condition of the roadway was further exacerbated by the presence of parked cars that narrowed the usable surface of the street.
What's more, the suit alleges the University failed to install crosswalks or traffic signals that would allow students to safely cross the busy roadway during peak times of the day when motor vehicle traffic was the most congested. In particular, because of the lack of crosswalks and traffic signals, bicyclists had no other choice but to travel head-on into oncoming traffic, versus with the flow of traffic, further increasing the roadway's dangerous conditions.
Finally, the suit alleges the City of Azusa failed to provide its students with duty of due care by scheduling the location and times of its classes in a manner that increased traffic congestion and intensity along the roadway.
Azusa Pacific University Allegedly Failed to Improve Hazardous Road Conditions
According to the lawsuit, the defendants were aware of the dangerous conditions of the roadway due to increased serious and fatal car accidents and had been provided funding to make improvements to the roadway but instead, used these funds for other projects at the expense of public safety.
"We allege that not only did Azusa Pacific University use funds earmarked for roadway improvements for other unrelated projects, it failed to warn people about the dangers of this roadway which further demonstrates its negligent and reckless disregard for human safety," said Chase.
The action seeks economic damages for severe personal injuries, pain and suffering and permanency, past and future hospital, medical and other healthcare expenses, and loss of past and future wages and earning capacity.
About BISNAR | CHASE
The BISNAR | CHASE Newport Beach personal injury lawyers represent people who have been very seriously injured or lost a family member due to an accident, defective product or negligence throughout California. The law firm has won a wide variety of challenging serious injury defective product cases against a number of Fortune 500 companies. Get a complimentary copy of The Seven Fatal Mistakes That Can Wreck Your California Personal Injury Claim. For more information, please visit http://www.CaliforniaInjuryBlog.com.
###