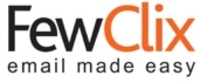 New York, NY (PRWEB) March 25, 2010
Synaptris, the market leading Lotus Notes information management solution provider, today announced the availability of FewClix Beta 2, the email productivity "killer app" for Lotus Notes that completely changes the corporate email paradigm.
FewClix Beta 2 is a significant upgrade from Beta 1 and features the industry's first solution for email users, specifically Lotus Notes users, to merge emails from their primary mail file, archives and offline mail files and work with a single consolidated mailbox. All the email productivity features provided by the FewClix Beta 1 release are also available in the Consolidated Mailbox.
With the average email volume for increasing significantly, a key challenge for enterprises has been the ballooning storage needs that impact storage cost, system performance and user response times. This has required enterprises to impose storage size limits on the user's mailbox. Users end up having to archive once a week or at least once a month to stay within their email storage quota. This results in a significant productivity loss when users have to work on a topic or task which requires information that spans multiple archives or mail files.
With the FewClix Consolidated Mailbox, Lotus Notes users will no longer need to go through individual archives or mail files to find the relevant information they need on a particular topic or task. Now, they can quickly isolate and review all of the relevant emails in the Consolidated Mailbox irrespective of the time period or the mail file or archive in which the associated emails reside.
FewClix Beta 2 also provides the ability for users to selectively find the emails they need by searching across their primary mail, archives and offline mail files. The search only merges the emails that match the search criteria and delivers the search results within the FewClix interface.
"Almost every FewClix Beta user we interacted with had one 'top of the wish list' feature which was for FewClix to provide them the productivity enhancements it delivers for their Mailbox but across their Mail and Archives," said Madan S. Kumar, CEO of Synaptris. "Enterprise IT teams will be very pleased with FewClix Beta 2 as it delivers a paradigm shift in productivity and time savings for users, without imposing additional server load or requiring additional storage."
The FewClix Consolidated Mailbox gives users the ability to:

Work with their consolidated mail file in the same way they work with their primary mail file without any storage or performance overhead and irrespective of the location (local, server, etc) of the mail/archive files;
Instantly find an email irrespective of which mail file or archive the email is stored in;
Use the same functionality that FewClix provides for primary mailboxes, including email prioritization, search, and mail organization.
FewClix Beta 2 is currently available on the Lotus Notes platform for both enterprises and individual users and can be downloaded at http://www.fewclix.com. It supports Lotus Notes v6.x, v7.x and v8.x and does not require any changes to the Lotus Notes mail template.
About FewClix
FewClix, from Synaptris, the market leading Lotus Notes information management company, is an email productivity add-on for Lotus Notes that completely changes the corporate email paradigm. FewClix gives Lotus Notes email users an easy and intuitive way to quickly prioritize their email, instantly find any email they are looking for, personalize their mailbox, organize their emails and extend their social networks. FewClix is currently in public beta and available for download as an add-on for Lotus Notes users. For more information please visit http://www.fewclix.com and follow us on Twitter @FewClix.
About Synaptris
Synaptris is a leading player in the information management market and delivers award-winning "flexible" and "user-driven" reporting, dashboards and analysis solutions that have been recognized for industry-leading innovation and ease-of-use. Synaptris has over 2300 customers across 80 countries and is headquartered in San Jose with offices in New York, London, Sofia and Chennai.
###