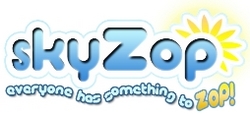 "I literally spend hours everyday on the web going through my Twitter, and Facebook accounts. I am thrilled to be now earning from something that I do anyways. The few hundred dollars I earn through SkyZop helps me pay down my credit cards."
Los Angeles, CA (PRWEB) March 29, 2010
Twitter Co-Founders Evan Williams and Jack Dorsey have propelled the social networking and micro-blogging sphere to a whole new level as millions utilize Social Networking in some way or another.
The next logical question is: How are regular, ordinary users going to be able to earn money from the time that is spent online using social networking sites like Myspace, Facebook, and the new Google Buzz?
Thankfully, SkyZop.com has answered this question.
SkyZop is a 100% free service that allows anyone to earn money from their regular online activities, and there are almost no restrictions on who can use SkyZop to earn.
Michael Praeton from Seattle says "I literally spend hours everyday on the web going through my Twitter, and Facebook accounts. I am thrilled to be now earning from something that I do anyways. The few hundred dollars I earn through SkyZop helps me pay down my credit cards."
Whether it's shrinking URLs, uploading pictures or videos, posting on Twitter, communicating with friends on Myspace, and Facebook, or creating a personal blog, everyone can now earn cash from their regular online activities with SkyZop's innovative technology.
SkyZop is fully integrated with Twitter, Myspace, Facebook, Buzz, and more than 50 popular social networks therefore enabling users to share their links with ease.
The cutting-edge SkyZop user platform also enables users to include their own custom advertisements with created links, empowering users to realize an even greater benefit from their online activity.
SkyZop users can craft their own short domain names to point to all links, and will benefit from the additional transparency with custom short Domains powered by SkyZop. Seeing a domain like yourna.me conveys the destination site before the link is even clicked.
Companies will also be able to take branding to a whole new level with the option to add unlimited domains to promote various aspects of their business.
A wide array of features including, real-time link statistics, a user friendly site, and a developer API kit are all compelling reasons to give SkyZop a try today.
For more information visit:
http://www.SkyZop.com
###