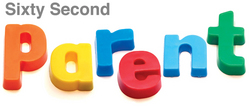 "As parents we need to teach our children the importance of eating a healthy balanced diet"
Asheville, NC (PRWEB) March 26, 2010
As National Nutrition Month draws to a close, leading Pediatrician Dr. William Lawrence Jr. of Sixty Second Parent encouraged parents to continue developing healthy living practices with their children throughout the year.
Dr. Lawrence's concern about the eating habits of children are reflected in the figures released by the Centers for Disease Control and Prevention (CDC) showing the doubling of childhood obesity rates in preschool children over the past 30 years, which signifies the severity of the issue.
"March shouldn't be the only month of the year when people watch what they eat and what they feed their children," Dr. Lawrence said.
"As parents we need to teach our children the importance of eating a healthy balanced diet. If we can get them to start healthy eating practices when they are young, they are more likely to continue these habits through adulthood, and as a consequence, avoid the associated health problems," he said.
Healthy eating and lifestyle changes don't need to happen all at once. Dr. Lawrence suggests making one small change at a time, for example:
o Take a look through your pantry and refrigerator and get rid of those foods that are high in fat, salt and sugar. Replace them with more nutritious options.
o Exercise together as a family by going to the park, finding safe bikeways, or playing games in the backyard like dodge ball, tag and sack races.
o Limit the time children spend in front of the TV or computer, and don't allow snacks during TV time.
"Children learn through observation, so it's important that parents maintain a healthy lifestyle and are good role models to their children," Dr Lawrence said.
National Nutrition Month was initiated in 1973 by the American Dietetic Association to raise awareness about healthy eating and nutrition.
WORD COUNT: 320
Brief bio: Dr. William Lawrence Jr. FAAP is the Wake County Medical Director for Duke Primary Care in Wake County, NC, and serves as a clinician in their Healthy Lifestyles program. He is also a regular contributor to the parenting website Sixty Second Parent.
For more information, contact:
Emma Boyle
Email: emma(at)sixtysecondparent(dot)com
###