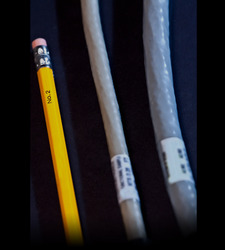 "Tyco Electronics MRJ21 Ultra Slim cable for IP networking connectivity affords our customers greater flexibility when building out high density data center designs," said Martin Skagen, senior director and chief architect at Brocade Communication Systems
Greensboro, NC (PRWEB) March 30, 2010
Tyco Electronics' AMP NETCONNECT business unit today announced the general availability of its reduced diameter MRJ21 Ultra Slim Gigabit Ethernet cabling system. The trimmed-down MRJ21 Ultra Slim cable assembly is .36 inches in diameter, about the size of a number two pencil. It weighs 40 percent less than comparable four-pair cabling systems, occupies 45 percent less rack space, requires 25 percent less power per port and promises to help reduce data center operating costs. The MRJ21 Ultra Slim cable assembly is a game-changer in the structured cabling marketplace, especially for data center customers who are seeking to optimize space in the rack, on the floor, and throughout cable pathways.
"Our MRJ21 Ultra Slim cabling system is the thinnest copper Gigabit Ethernet solution available from Tyco Electronics," said Paul Woods, AMP NETCONNECT business unit's global director, Marketing. "We're excited to bring this innovative cabling technology to our customers and to the marketplace. It's the perfect solution for today's server-crowded data centers where space is a premium. Tighter IT budgets coupled with escalating power costs are driving technology selection; the design of our MRJ21 Ultra Slim cable improves airflow, dissipates heat more efficiently and reduces overall power consumption."
"Tyco Electronics MRJ21 Ultra Slim cable for IP networking connectivity affords our customers greater flexibility when building out high density data center designs," said Martin Skagen, senior director and chief architect at Brocade Communication Systems, Inc. "This new solution allows customers to streamline their cabling requirements, resulting in lower cost, simplified cable management, and greater energy efficiency within their data center environment."
The MRJ21 Ultra Slim cabling system installs six to ten times faster than four-pair cabling and significantly reduces the cable management and routing problems of bundled cabling systems. Engineered to support more ports per rack, the lean MRJ21 Ultra Slim cabling system supports six ports of Gigabit Ethernet interface, which dramatically increases the number of ports customers can include in a single rack. Traditional four-pair cable bundles add weight and create clutter. The MRJ21 Ultra Slim cabling system reduces cable mass, bend radius and weight without sacrificing performance.
More information about Tyco Electronics' MRJ21 Ultra Slim can be found here.
ABOUT TYCO ELECTRONICS
Tyco Electronics Ltd. is a leading global provider of engineered electronic components, network solutions, specialty products and undersea telecommunication systems, with fiscal 2009 sales of US$10.3 billion to customers in more than 150 countries. We design, manufacture and market products for customers in a broad array of industries including automotive; data communication systems and consumer electronics; telecommunications; aerospace, defense and marine; medical; energy; and lighting. With approximately 7,000 engineers and worldwide manufacturing, sales and customer service capabilities, Tyco Electronics' commitment is our customers' advantage. More information on Tyco Electronics can be found at http://www.tycoelectronics.com/.
ABOUT THE AMP NETCONNECT BUSINESS UNIT
The AMP NETCONNECT business unit of Tyco Electronics, develops, manufactures, and supplies a comprehensive range of communications infrastructure systems and products for customer-owned networks in most every industry. As a leading provider of commercial premises structured cabling systems for optical fiber and twisted-pair copper technologies, Tyco Electronics has broadened its AMP NETCONNECT product portfolio to include a complete line of infrastructure management solutions, data center solutions, 10 Gigabit solutions secure network solutions, and asset management solutions. More information on AMP NETCONNECT products can be found at http://www.ampnetconnect.com/ and http://www.ampnetconnect.eu/.
ABOUT BROCADE
Brocade® (Nasdaq: BRCD) develops extraordinary networking solutions that enable today's complex, data-intensive businesses to optimize information connectivity and maximize the business value of their data. For more information, visit http://www.brocade.com.
Tyco Electronics, TE logo, AMP, AMP NETCONNECT, MRJ21 are Trademarks of Tyco Electronics Group of Companies and its licensors. All other Trademarks or company names referred to herein are the property of their respective owners.
###