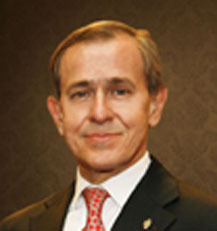 Le Cordon Bleu contributes to and supports the international community of culinary professionals and aspiring culinarians through scholarships, memberships and partnerships.
Secaucus, NJ (PRWEB) March 26, 2010
PRWeb- Le Cordon Bleu is proud to announce that President and CEO of Le Cordon Bleu, André Cointreau, will be awarded the Lifetime Achievement Award at the Awards Gala of the annual conference of the International Association of Culinary Professionals (IACP) on April 22, 2010 in Portland, Oregon USA. This special recognition is bestowed upon individuals who have made lasting accomplishments and contributions to the culinary industry.
President and CEO, André Cointreau is a direct descendant of the founding families of Cointreau Liqueur and Rémy Martin Cognac and is a graduate of the highly respected French institutions, HEC (Haute Etudes Commerciales) and Sciences Po, Paris (Sciences Politique), where he received his masters in economic sciences graduating with honors.
He began his career with Unilever and the American Express Banking Corporation before joining the Cointreau Group. In 1984, the Cointreau family acquired the renowned Le Cordon Bleu cooking school. André Cointreau became president and through his vision, Le Cordon Bleu is known internationally for its diversification and its influence in the world of gastronomy.
André Cointreau is also chairman of Pierre Deux, a leading purveyor of authentic French Country home furnishings with 25 boutiques in the United States as well as FCLStyle.com, an exclusively online boutique that blends traditional and modern French styles with a contemporary approach to home décor.
André Cointreau is a member of many French and international professional associations such as Le Cercle de l'Union Interalliée, l'Aéro Club de France, l'Alliance Française (where he has been an elected member of the Board of Directors for the last 17 years), La Chaîne des Rôtisseurs (where he is a Personalité d'Honneur), l'Académie Brillat Savarin, the Lafayette Memorial, the American Club of Paris, and the International Association of Culinary Professionals (IACP) among others.
André Cointreau is a recipient of numerous awards and honors. He has been awarded honorary doctorates from several universities such as Sookmyung University and Interamericana University, and he received the Golden Medal of Anahuac University in Mexico. He was recognized as «Person of the Year» by the Fédération of the Alliances Francaises in the United States in 2003 for his contribution to the support of French culture. He is also received the Medal of the City of Paris. In 2009 André Cointreau was awarded the Légion d'Honneur, the highest national recognition bestowed by France.
About Le Cordon Bleu:
Founded in Paris in 1895, Le Cordon Bleu currently maintains a presence in 15 countries with more than 35 schools attended by 20,000 students annually. Le Cordon Bleu has attracted students from around the world and currently hosts students from more than 70 nationalities. After 1945, Le Cordon Bleu was recognized by the US government for professional training of young GIs, one of which was a former OSS officer by the name of Julia Child.
Le Cordon Bleu's time-tested teaching methodology of "watch, do, learn", continues to be the foundation of Le Cordon Bleu's success. Students are taught by chefs who pass on their expertise and share their knowledge obtained through their own experiences in the industry. Since its founding, Le Cordon Bleu chefs teach techniques and methods of cuisine and patisserie that have been codified and respected in Europe for more than 300 years and are applicable to any cuisine.
Le Cordon Bleu has responded to changing trends and demands by the industry by enhancing its programs with new technology and approaches such as virtual and interactive education and the implementation of new training restaurants. With partner universities, Le Cordon Bleu also supports and participates in industry research and development.
To complement its culinary arts training, Le Cordon Bleu has also developed business-focused curriculums in restaurant, hotel and tourism management representing today 50% of Le Cordon Bleu programs. Among these are bachelor and master of business administration degrees in partnership with universities worldwide and supported by governments.
Le Cordon Bleu curriculums are adaptable to respond to the needs of the hospitality industry in different
international markets. Le Cordon Bleu Peru, which has been given university status, has developed CordonTec and CordonPro, vocational food & beverage programs specifically tailored to students with financial limitations. In the United States, Le Cordon Bleu offers certificate, associate and bachelor degree programs. Le Cordon Bleu Schools North America, with its network of 17 campuses, has become the number one provider of culinary arts education over the last 12 years.
Additional activities by Le Cordon Bleu include the development of restaurants, bakeries and tea salons, a range of gourmet products, cooking magazines and cookbooks. Le Cordon Bleu publications have sold over 8 million copies in the last 10 years. Le Cordon Bleu also participates in more than 80 international events annually such as gastronomic festivals, professional conferences and international competitions. Le Cordon Bleu is a proud member of several international culinary and cultural associations.
Today, Le Cordon Bleu is one of the leading providers of culinary arts training and restaurant, hotel and tourism management education worldwide. Le Cordon Bleu contributes to and supports the international community of culinary professionals and aspiring culinarians through scholarships, memberships and partnerships.
###