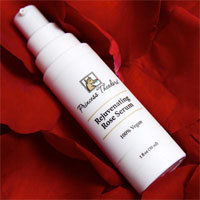 Virginia Beach, VA (PRWEB) March 30, 2010
Princess Theodora, maker of fine skin care products, announces the release of its new Rejuvenating Rose Serum. This powerful serum diminishes the appearance of fine lines, wrinkles and pores, infusing the skin with a radiant, healthy and youthful look. Its potent anti-aging formula results in a beautifully ageless, firmer and more lifted appearance.
"Serums should be considered a very important part of our daily beauty regimen by boosting the skin's natural protection against the environment and, if formulated properly, by almost immediately reducing the visible signs of aging," says Princess Theodora Von Auersperg, President and CEO of Princess Theodora. "Our Rejuvenating Rose Serum formula uses only the purest and most refined ingredients available in today's market."
Princess Theodora considers serums the best kept beauty secret for almost instant regeneration and rejuvenation of the skin on contact. The new Rejuvenating Rose Serum is 100 percent vegan and is not tested on animals. Packed with essential nutrients and fortifying antioxidants such as rose absolute, hyaluronic acid and vitamins A, B, C and E, the serum stands apart from competing products in a category of its own.
In addition to the Rejuvenating Rose Serum, Princess Theodora has recently launched an exclusive skin care line of unique products that are mostly organic and vegan and made from the finest and purest botanicals available. By implementing ancient beauty secrets and applying today's latest state of the art technology, the outcome is fabulous formulations aimed at every woman who seeks to reconnect and unleash her very own "Inner Princess".
With the promise to always honor and respect nature and its creatures, all Princess Theodora products are not tested on animals. Ten percent of the proceeds from all product sales go to the Princess Theodora Foundation – 'Save A Soul' – for the rescue and protection of homeless, abandoned and abused animals.
For more information about Princess Theodora, its new Rejuvenating Rose Serum or any of its exclusive skin care products, visit http://www.PrincessTheodora.com.
# # #