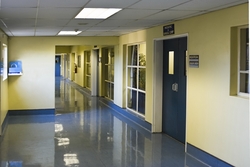 Sheffield, MA (Vocus) March 29, 2010
Bayer Materials Science, LLC announces that its Sheffield Plastics business headquartered here has gained approval for its Makrolon® MAK 15 polycarbonate sheet as a high impact, break-resistant clear glazing material from the New York State Office of Mental Health.
The state agency approved the new product for exterior and interior applications after the material met rigorous performance standards for human impact, flammability and weathering life. These standards often serve as a benchmark for public facilities in other states as well.
According to the manufacturer, Makrolon MAK 15 is the result of a five-year R&D program with its parent-company Bayer Material Science, LLC. In addition to its inherent break-resistance, the new material delivers up to twice the abrasion resistance and weathering life due to UV exposure over prior polycarbonate sheet materials. As a result, provides longer life and reduced maintenance for external glazing and for interior partitions, windows and doors.
Based on performance improvements made possible with its new technology, Sheffield Plastics also backs Makrolon MAK 15 with an unprecedented 15 year warranty on weathering life, yellowing, abrasion resistance and breakage.
The new product is available through the manufacturer's national network of distributors. Administrators and facilities managers can find complete information on the product at http://www.sheffieldplastics.com or by calling the company at 1-877- 413-7957.
Bayer MaterialScience LLC is one of the leading producers of polymers and high-performance plastics in North America and is part of the global Bayer MaterialScience business with nearly 15,100 employees at 30 sites around the world and 2008 sales of 9.7 billion euros. Business activities are focused on the manufacture of high-tech polymer materials and the development of innovative solutions for products used in many areas of daily life. The main segments served are the automotive, electrical and electronics, construction, medical, and sports and leisure industries.
Contact:
Cindy Kahlstrom
Phone: 413-528-7812
E-mail: cindy(dot)kahlstrom(at)bayerbms(dot)com
For more information about Bayer MaterialScience, call 1-800-628-5084, email us at info(at)sheffieldplastics(dot)com or visit http://www.sheffieldplastics.com
This news release contains forward-looking statements based on current assumptions and forecasts made by Bayer Group management. Various known and unknown risks, uncertainties and other factors could lead to material differences between the actual future results, financial situation, development or performance of the company and the estimates given here. These factors include those discussed in our annual and interim reports filed with the Frankfurt Stock Exchange. The company assumes no liability whatsoever to update these forward-looking statements or to conform them to future events or developments.
# # #