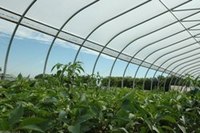 Roseville, MN (PRWEB) March 27, 2010
J.R. Johnson Supply, a 94 year-old distributor of horticulture products, announced the creation of an on- line resource for growers interested in using high tunnels for increasing their crop yield. The resource center is http://www.hightunnelhub.com. This website will be constantly updated to provide the latest growing information as it relates to high tunnels. Some of the information includes government funding information, product and product accessories, high tunnel growing webinars, and other valuable information pertaining to high tunnel growing.
Using high tunnels can extend growing seasons by 4 – 8 weeks in the spring and 2 -5 weeks in the fall. This means growers can get an additional crop and enhanced yields in the upper Midwest regions of the United States. A longer growing season and higher yields means higher profits. High tunnels also provide more protection from inclement weather, diseases and pests than field gown crops. High tunnels are idea for the organic farmer.
"Growers are experiencing significant profit increases by using high tunnels". said Paul Wilmes, President of JR Johnson Supply. "In many cases the payback for a high tunnel investment is less than one growing season."
Additionally, the US Dept of Agriculture announced a High Tunnel Pilot Study Program. Pending the approval of the local NRCS office in your county, the US Government may provide funding for a high tunnel green house. JR Johnson is keeping abreast of the latest changes in this program and applications for this program can be found on its high tunnel website: http://www.hightunnelhub.com.
JR Johnson Supply has some of the most knowledgeable growing experts in the Midwest that can be a valuable resource to any grower who is interested in using high tunnels. One of JR Johnson's primary objectives is to provide information and consultation to the high tunnel grower. They are just a phone call away at 1-800-328-9221
J.R. Johnson Supply headquartered in Roseville, Minnesota is a subsidiary of Minneapolis based North Central Equity. With over 30,000 items available, whether it be soil media, containers, pesticides, fertilizers, irrigation equipment, nursery supplies, greenhouse structures, organic growing supplies, generic chemicals, landscape or retail garden center supplies and greenhouse equipment, JR Johnson Supply has been a competitively priced, trusted source since 1917.
###