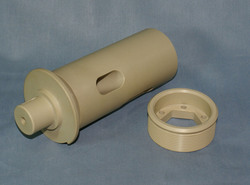 The stainless steel material previously used in the bottling machines suffered excessive wearing due to friction. We replaced the metal and reduced weight with VICTREX PEEK components which increased the system lifetime
West Conshohocken, PA, USA (PRWEB) March 30, 2010
Solidur, one of Brazil's largest high-performance plastics processing companies, has selected VICTREX® PEEK™ polymer, manufactured by Victrex Polymer Solutions, a division of Victrex plc and leading provider of high performance polyaryletherketones, to replace stainless steel filling valves in beverage bottling machines and the housings responsible for placing the threaded cap on each bottle. VICTREX PEEK polymer was chosen for its ability to withstand the high temperatures of the sterilization process and for its abrasion resistance.
"The stainless steel material previously used in the bottling machines suffered excessive wearing due to friction between the valve and the valve counterpart. We replaced the metal and reduced weight with VICTREX PEEK components which increased the system lifetime," said Marivaldo Muniz, Industrial Director at Solidur. "The low coefficient of thermal expansion and the dimensional stability of VICTREX PEEK polymer also solved the problem that lower performance polymers could not. PE-UHMW, Acetal and PTFE components all locked or melted in the counterpart and stopped the bottling production due to thermal expansion when juice sterilization required continuous operating temperatures of 95°C (203°F)."
As an additional benefit from switching to VICTREX PEEK polymer housings, Solidur was able to reduce the cutting machine noise that was created by the grinding of steel against steel and of steel against glass. Dimensional stability was also critical because of the very tight tolerances of the stainless steel. VICTREX PEEK polymer provides the high mechanical strength and chemical and wear resistance needed for the components.
In addition to excellent thermal resistance and dimensional stability, VICTREX PEEK polymer is non-toxic and certified for food contact by the FDA. "The switch to VICTREX PEEK polymer increased the equipment lifetime performance, reduced the production downtime and increased productivity rates," said Ricardo Ehlke, Victrex Market Development Manager in South America.
For more information, please or visit the Victrex website at http://www.victrex.com.
About Victrex
Headquartered in the UK, Victrex plc is an innovative leading manufacturer of high performance materials, including VICTREX® PEEK™ polymer, VICOTE® Coatings and APTIV™ film. These materials are used in a variety of markets and offer an exceptional combination of properties to help processors and end users reach new levels of cost savings, quality, and performance. All Victrex material production comes under Victrex's ISO 9001 quality registration.
VICTREX® is a registered trademark of Victrex Manufacturing Limited in the US, European Community and elsewhere. PEEK™, APTIV™, PEEK-ESD™, T-Series™, PEEK-HT™, ST™ and WG101™ are trademarks of Victrex plc. VICOTE® is a registered trademark of Victrex plc in the US, European Community and elsewhere.
About Solidur Plásticos Industriais
Solidur Plásticos Industriais, São Paulo, Brazil, has been operating for over 19 years in the Brazilian market with facilities capable of developing projects with extreme precision, cutting edge technology and highly qualified and committed professionals. For more information visit http://www.solidur.com.br.
###