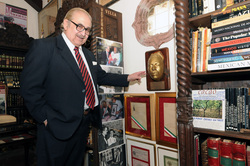 Texas City, TX (Vocus) March 27, 2010
How is Texas City, a long way from the southern border, connected to Pancho Villa and the first revolution of the 20th century? That is the subject of a program and historical exhibit looking back 100 years to the start of the Mexican Revolution that will be held at College of the Mainland (COM) April 16.
The event will feature rare, original documents and artifacts of the revolution along with personal items that belonged to Pancho Villa.
Dr. Manual Urbina, a COM history professor and a nationally recognized authority on General Pancho Villa and Mexican artifacts, will display items from his personal museum and discuss the Texas City connection. The Houston Consul General of Mexico, the Honorable Carlos Ignacio González Magallón, is the keynote speaker.
Twenty-three years ago, Urbina held a reunion at COM between veterans of the revolution who fought on opposing sides. Teodoro Garcia of Texas City, then 100 years old, fought with the Federales. Leo Reynoso of Houston fought with Villa. Among the guests at the 1987 reunion was Pancho Villa's daughter, Alicia Villa from New Orleans.
Though those individuals have since passed on, Urbina has resurrected the historical milieu.
Urbina, who has been teaching at COM since the College opened in 1967, has spent decades collecting artifacts, documents and oral histories of the Mexican Revolution, and he claims to have the only complete collection of paper money issued by Pancho Villa. He also owns a pair of Villa's spurs and one of only four Villa desk masks known to exist, both of which will be on display at the College April 16.
The April 16 event will be held at the COM Library beginning with a press conference and artifacts display at 6 p.m. The program and a reception will follow in the Teaching Auditorium (L-131) at 7 p.m.
PHOTO: COM history professor Manual Urbina points out the death mask of Pancho Villa at his private museum in South Houston. Villa memorabilia along with other documents and artifacts from the Mexican Revolution will be on display at College of the Mainland at an April 16 program commemorating the 10th anniversary of the start of the Mexican Revolution and its connection with this Texas town south of Houston.
###