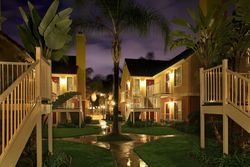 Anaheim, CA (PRWEB) March 27, 2010
Prepare for some home run excitement at the MLB All-Star FanFest July 9-13 in Anaheim, CA. Baseball enthusiasts who take advantage of great amenities at the Residence Inn Anaheim Maingate will find themselves in the perfect lineup for some fabulous baseball fun at this inviting Anaheim hotel near Angel Stadium.
Less than a mile away from the Anaheim Convention Center, site of FanFest, baseball fans will enjoy a family-friendly environment and fine hotel suite accommodations in this fully equipped extended stay hotel in Anaheim, CA. Guests will also find shuttle service from the hotel to the convention center, Disneyland and various shopping centers available through the Anaheim Resort Transit (ART) making it easier for everyone can stay connected.
FanFest will be filled with fun and excitement for baseball lovers of all ages, featuring interactive exhibits and attractions, including life-sized video batting and pitching cages, major league clinics and seminars, and free autograph sessions with Angels' legends and Hall of Fame inductees. There will also be a host of memorabilia at this interactive baseball theme park - the largest baseball fan event in the world. Hall of Famer Ron Carew will serve as spokesperson for the phenomenon which leads up to the 81st All-Star Game on July 13 at Angel Stadium. Family discount tickets are being offered by Angel Stadium as along as tickets are available.
Other activities leading up to the All-Star Game include the Gatorade All-Star Workout Day and Home Run Derby, MLB All-Star Game Charity 5K & Fun Run and the XM All-Star Futures Game, which features some of the game's best young prospects from the U.S. and around the world. Some recent stars of this game include the Angels' own Ervin Santana, Rich Thompson, Jeff Mathis and Freddy Sandoval. Other top MLB players who have played in this game include Evan Longoria, Ryan Howard and Grady Sizemore. And, the Taco Bell All-Star Sunday winds-up with the Taco Bell All-Star Legends & Celebrity Softball Game. This entertaining five inning game features MLB and Angels' legends taking the field with celebrity favorites.
Whether relaxing or entertaining, the Residence Inn offers the finest accommodations among hotels near Angel Stadium in Anaheim providing amenities that create all the comforts of home, including fully equipped kitchens, separate living areas, barbecue grills and a welcome atmosphere to help guests make the most of their stay.
About the Residence Inn Anaheim Maingate Hotel:
The Residence Inn Anaheim Maingate is a family-friendly extended-stay Anaheim hotel featuring spacious full-size suites, complimentary parking and grocery shopping service. With a relaxed and welcoming atmosphere, the hotel is service oriented; maintaining a Disney Kiosk in the main lobby to help guests in coordinating visits to the park and offers social activities in the Gatehouse. Other amenities include a heated outdoor pool and the Sport Court for family fun and relaxation.
###