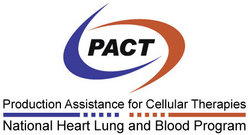 Rockville, MD (PRWEB) March 26, 2010
Production Assistance for Cellular Therapies (PACT) is pleased to announce the scheduling of a webcast to be held on Tuesday May 4, 2010, 2:00 pm ET. This is a free, interactive webcast to discuss the PACT program and to answer participants' questions about the program's goals, the application process and criteria, and the details surrounding PACT product manufacturing and translational services.
Webcast Description:
Representatives from the five PACT Cell Processing Facilities will present on novel clinical and translational development projects:

Baylor College of Medicine, Center for Cell and Gene Therapy
Center for Human Cell Therapy Boston
City of Hope, Center for Applied Technology Development
University of Minnesota, Molecular and Cellular Therapeutics Facility
•University of Wisconsin - Madison, Waisman Clinical BioManufacturing Facility
The process for requesting PACT services will be discussed followed by a Question and Answer Session
Online Registration Opens April 5, 2010:
Register online at http://www.pactgroup.net. Registrants will receive an email with instructions for accessing the audio and Internet portions of the webcast one week prior to the webcast.
Intended Audience:
Clinical Investigators, Scientists, Researchers, and Technologists specializing in cell therapy
About PACT:
PACT is an NHLBI-funded initiative that is committed to the advancement of effective cell therapies. PACT supports the development of novel cell therapy products by providing production assistance to the cell therapy community, as well as educational training via web seminars and at meetings. Production assistance is provided through the funded contract manufacturing of therapeutic cell products at five PACT cell processing facilities. These facilities offer scale-up capability and expertise in the translational development needed to produce cell therapy products under cGMP and cGTP regulations. PACT's educational training focuses on translational development, scale-up and manufacture of cell therapy products, quality assurance and regulatory issues.
Applications:
PACT is currently accepting and evaluating applications for product manufacturing and translational services. Applications can be submitted online through the PACT website at http://www.pactgroup.net.
More information about PACT is available at http://www.pactgroup.net.
Contact Information
PACT, Rockville, MD
Jamie Winestone or Debbie Wood
phone: 301-251-1161
email: pactinfo(at)pactgroup(dot)net
This project has been funded in whole or in part with Federal funds from the NHLBI, NIH
under Contract No. HHSN268201000006C
###