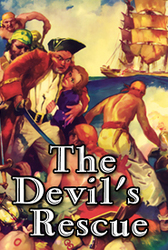 The Saturday night performances recreate "the sensations of old-time radio, compellingly crafted tales by award-winning writer L. Ron Hubbard,"
Los Angeles, CA (PRWEB) March 26, 2010
Golden Age Theater is proud to feature the acting talents of Jim Meskimen (Frost/Nixon, Apollo 13) and multi-Grammy award winning musician David Campbell in the performance of the fantasy-thriller The Devil's Rescue by author L. Ron Hubbard this Saturday, March 27, at 7:30pm at the Golden Age Theater located at Hollywood and Sycamore (between Highland and La Brea). http://www.GoldenAgeStories.com
The Devil's Rescue is a story about Edward Lanson, who has been drifting in a lifeboat far below the Cape of Good Hope for weeks and who seems destined for the watery depths until an ancient clipper ship rescues him. But what seemed to be salvation may indeed be his destruction when he is confronted with the captain of a crew of faceless sailors—a man known only as the Dark One—who has his own plans for Edward.
A musical pre-show will feature Sisu Raiken and Caroline Veach.
The Golden Age Theater, featuring stories written in the 1930s and 1940s by L. Ron Hubbard, has received CBS Radio's highest four-star rating. Contributing Arts and Entertainment Critic Todd David Schwartz gave the shows "FOUR STARS (Highest Rating) [for] Southern California's most refreshingly unique entertainment experience."
The Saturday night performances recreate "the sensations of old-time radio, compellingly crafted tales by award-winning writer L. Ron Hubbard," said Schwartz.
Tickets and schedules are available online at http://www.goldenagestories.com by clicking on the Golden Age Theater link. Parking is free, and complimentary refreshments will be served before and after the show. Doors open at 7:00pm.
###