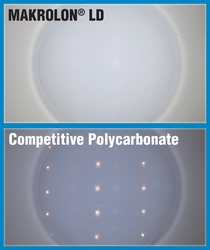 History and Evolution of Plastic Sign Faces
Sheffield, MA (Vocus) March 27, 2010
Sheffield Plastics, a Bayer Material Science LLC company based here, will feature its new Makrolon® LD polycarbonate sheet for LED back lit sign faces at the 2010 International Sign Association Expo. The manufacturer will showcase the product in its ISA exhibit and its presentation, "History and Evolution of Plastic Sign Faces," as the latest technological step in these materials.
In conjunction with Bayer MaterialScience's R&D team, Sheffield developed Makrolon LD to address visible LED "hot spots" from the intense pinpoint lights that can show through traditional sign face materials. Thermoforming, which typically thins out corners and edges of sign face sheet products, heightens the hot spot problem. The inherent composition of the new polycarbonate sheet eliminates the problem by diffusing or spreading LED luminance uniformly, even in thermoformed three-dimensional faces. It also delivers high light transmittance to ensure brightness of LED back-lit signs.
Sheffield's Dr. Ted Trautman, who worked on the development of Makrolon LD polycarbonate sheet, also defined sign design techniques to enhance luminance quality of LED's in conjunction with the sign face material.
According to Dr. Trautman, "The variability of the human factor in judging sign lighting from different sight angles was a major consideration in developing the Makrolon LD product. We devised comparative test methods and computer-aided enhancement techniques using in-house sign 'can' test fixtures to help us factor in this variable in a quantifiable and repeatable way. Evaluations included various LED types, and combinations of light spacing and positioning relative to the sign face. The results helped us define both the design guidelines and the sign face material characteristics that contribute to optimum lighting quality."
Makrolon LD sheet also has the inherent breakage resistance of polycarbonate, an important factor not only to avoid damage in outdoor signs but also in the production of potentially fragile complex shapes now possible with LED lighting. According to Sheffield's spokesman, "This combination of toughness, the new light diffusing technology of the sheet material and the versatility of LED lighting for free-form shapes extends the boundaries of signage design."
Dr. Trautman will be a co-presenter for Sheffield's ISA Expo session on plastic sign faces and will cover many of the tests and variables behind the development of the new material and LED sign design guidelines.
Bayer MaterialScience LLC is one of the leading producers of polymers and high-performance plastics in North America and is part of the global Bayer MaterialScience business with nearly 15,100 employees at 30 sites around the world and 2008 sales of 9.7 billion euros. Business activities are focused on the manufacture of high-tech polymer materials and the development of innovative solutions for products used in many areas of daily life. The main segments served are the automotive, electrical and electronics, construction, medical, and sports and leisure industries.
Contact:
Cindy Kahlstrom, Phone: 413-528-7812
E-mail: cindy.kahlstrom (at) bayerbms (dot) com
For more information about Bayer MaterialScience, call 1-800-628-5084, email us at info (at) sheffieldplastics (dot) com or visit http://www.sheffieldplastics.com
This news release contains forward-looking statements based on current assumptions and forecasts made by Bayer Group management. Various known and unknown risks, uncertainties and other factors could lead to material differences between the actual future results, financial situation, development or performance of the company and the estimates given here. These factors include those discussed in our annual and interim reports filed with the Frankfurt Stock Exchange. The company assumes no liability whatsoever to update these forward-looking statements or to conform them to future events or developments.
###