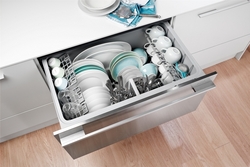 We have developed a modular range of 36
Huntington Beach, CA (Vocus) March 29, 2010
Fisher & Paykel has looked at this evolution as an opportunity to create change – a shift in the kitchen paradigm that offers the industry something new.
"We have developed a modular range of 36" products that are well made, have outstanding performance and incorporate user-focused innovations," says Laurence Mawhinney, President of Fisher & Paykel Appliances. "Fisher & Paykel's modular system also provides flexibility, giving customers and design professionals an infinite number of optimal kitchen layouts."
All the appliance modules are 36" wide and are designed at one level to provide the best ergonomics. This also gives you the freedom and flexibility to arrange drawers and cupboards however you want, from the simplest layouts to the most expansive.
The 36" DishDrawer will be released mid-2010 and the 36" single oven in 2011. These products combined with the existing 36" CoolDrawer and cooktop products will complete the modular kitchen solution.
With more than a decade of manufacturing and sales experience, Fisher & Paykel's DishDrawer continues to provide innovation on a worldwide stage. The latest DishDrawer builds on its world-renowned platform. It features a nine-place setting capacity, tall design with fully adjustable racks and fold-down tines.
To complete the family, the latest built-in oven offers sleek contemporary styling. The oven is loaded with features such as Aero Bake, Roast and Self Clean. The rotisserie features provides another level of cooking functionality for the aspiring chef.
To find out more about Fisher & Paykel's products or its DCS by Fisher & Paykel brands, please contact your local Fisher & Paykel dealer. You can also get more information at http://www.fisherpaykel.com or call us toll free at 888 936-7872.
About Fisher & Paykel Appliances
Fisher & Paykel Appliances is a global company best known for its innovative DishDrawer® dishwasher. Fisher & Paykel designs, manufactures and markets a range of innovative household appliances developed with a commitment to technology, design, user friendliness and environmental awareness.
Fisher & Paykel Appliances has manufacturing sites located in Auckland, New Zealand; Rayong Province, Thailand; Ohio, USA; Reynosa, Mexico and Treviso, Italy.
Fisher & Paykel and DCS products are sold, directly or via distributors, to approximately 5000 dealers in the United States & Canada. Further details on Fisher & Paykel Appliances are available on their Web sites.
# # #