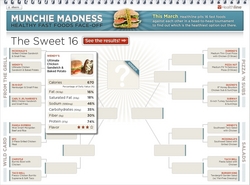 "It's a common question on people's mind," says associate editor Elijah Wolfson. "You pull off the highway looking for a quick and healthy meal. There's a McDonald's, Wendy's, Taco Bell and Burger King all right next to each other. Which one ha
San Francisco, CA (PRWEB) March 26, 2010
March Madness has spread across the country, and with only 16 teams left standing in the NCAA Basketball Tournament, things are really heating up. In honor of this great American competition, Healthline.com is creating a healthy kind of madness – Munchie Madness! As more and more popular fast food restaurants add healthier options to their menus, Healthline wanted to know which option at which restaurant was the healthiest of all. They hosted their very own Sweet 16 to find the answer and Taco Bell emerged as the fan favorite.
For the Munchie Madness Sweet 16, Healthline chose 16 popular fast food restaurants – from drive-thru burger joints to pizza deliverers – and pitted them against each other in a head-to-head, tournament-style bracket competition to see which one provides the healthiest option out there.
The competition took into account nutritional statistics – calories, saturated fat, and carbohydrates – but also included other dietary essentials, such as protein and fiber, in the decision-making process. And of course, taste was a factor as well. It took a well-rounded, healthy meal to win this competition.
"It's a common question on people's mind," says Healthline associate editor Elijah Wolfson. "You pull off the highway looking for a quick and healthy meal. There's a McDonald's, Wendy's, Taco Bell and Burger King all right next to each other. Which one has the healthiest fast food options?"
To answer to that question, Healthline is offering a Sweet 16 bracket chock full of helpful and healthy information. There are plenty of healthy options, but only ONE was crowned the champion.
Find out how Taco Bell won this fierce competition by visiting http://www.healthline.com/channel/healthy-fast-food-video.
About Healthline
Healthline Networks is a leading provider of intelligent health information services, enabling over 90 million consumers a month to make more confident, informed healthcare decisions. The company's proprietary consumer healthcare taxonomy, the largest of its kind, powers a suite of intelligent health search, content and advertising services. Combining advanced search technology with deep medical expertise, Healthline partners with a network of over 40 trusted destination sites that include publishers, portals, search engines, employers and health plans. Headquartered in San Francisco, Healthline is backed by Aetna, GE/NBCU, JHK Investments LLC, Kaiser Permanente, Mitsui & Co., Ltd., Reed Elsevier, U.S. News & World Report, and VantagePoint Venture Partners. For more information visit http://www.healthline.com.
# # #