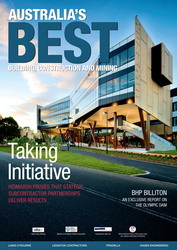 Asia's Best will only add to the phenomomenal success that Bean Media has already achieved with Australia's Best
(PRWEB) March 27, 2010
With Australia's Best now firmly established as the number one leading business magazine in Australia, it only made sense for Bean Media Group to take the next step and expand to the world's most successful business market, Asia. The new industry publication from Bean Media is entitled Asia's Best and will explore companies throughout China, Hong Kong, Macau, Tibet, Indonesia, Malaysia, Singapore and Taiwan.
Like Australia's Best, this publication will cover a wide variety of industries, including Manufacturing, Retail, Food and Drink and Building, Construction and Mining. The focus of each magazine is supply chain, procurement and customer/supplier relationships and each publication provides valuable exposure and insight into successful purchasing strategies. The publication will be sent to two or three contacts per company, namely Managing Director, CEO and head of Purchasing/Procurement.
One thing is clear at the present time, and that is that economic growth in Asia is powering ahead at a faster pace than any other regions and is being led by China. With a population of 1.3 billion, representing 25 percent of the world's population, China is one of the fastest-evolving countries from a logistics, manufacturing, and production perspective. With this in mind, the importance of an efficient supply chain is crucial and forming solid relationships with key suppliers is integral to the success of one's company. Asia's Best will explore these relationships, as well as provide readers with up to date news and events in each specific industry.
Chris Dutton, Managing Director at Bean Media, states, "With the enormous success of Australia's Best, we strive for bigger and better things. The Asian market is definitely one we have wanted to explore and the time just seems right. We predict big things from Asia's Best which will only add to the phenomenal success that Bean Media has already achieved with Australia's Best."
Many top companies have featured in the award-winning series Australia's Best, including Mc Donald's, Coca-Cola Amatil, Ford, Toyota, Yokohama and LG. These editorial features are also submitted to online distribution channels including Google and Yahoo News as well as many international business websites, including the International Business Times. These companies fortunate enough to be selected for inclusion have only praise for Bean Media and the exposure that Australia's Best has provided for them.
Australia's Best seems to be leading the way when it comes to providing a high-quality business title and Asia's Best will no doubt live up to its name.
For more information on Bean Media Group and Australia's Best visit http://www.media.net.au
###