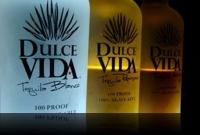 "As a first time entry at the SFWSC and a new tequila on the market, we are thrilled for the recognition our Blanco received," said Charlie Paulette, CEO, Dulce Vida Spirits, Inc.
San Francisco, CA (PRWEB) March 26, 2010
Dulce Vida Tequila took home the top award for silver tequila in the San Francisco World Spirits Competition (SFWSC) this past week. Dulce Vida's Blanco Tequila won the Double Gold Medal in a field of 62 tequilas entered in the category. There were only three Double Gold winners overall. The SFWSC is the most influential and respected spirits competition in the world.
"As a first time entry at the SFWSC and a new tequila on the market, we are thrilled for the recognition our Blanco received," said Charlie Paulette, CEO, Dulce Vida Spirits, Inc. "Earning this mark of distinction as a 100 proof spirit competing against a field largely consisting of 80 proof offerings validates the quality, purity, and commitment we put into our product."
Dulce Vida's Reposado and Añejo were also winners, winning silver and bronze medals, respectively.
Dulce Vida currently produces three traditional styles of tequila: Blanco, Reposado, and Añejo. The initial ten barrels of production yielded only enough tequila for select distribution within Texas. The limited edition bottles bear a label etched in liquid platinum (Blanco), gold (Reposado), and bronze (Añejo.) The triple-distilled tequilas are made with 100 percent organic blue agave from the Pacific Coast highlands in Nayarit. The Reposado and Añejo styles are aged in Kentucky Whisky Oak barrels for 11 months and 24 months, respectively. At 100 Proof, the Dulce Vida products represent the traditional, old-world methods of tequila production and have not been diluted with water to lower the proof content.
Celebrating its 10th year, the 2010 SFWSC was the biggest in its history. Thirty judges gathered at the Hotel Nikko in San Francisco to reward spirits excellence by evaluating 1024 different spirits from 57 countries. These judging panels were comprised of spirits experts from noted restaurants and hotels, well-known spirits journalists, spirits buyers for large purveyors, and spirits consultants. Judging was based on a blind format, ensuring competitive integrity, as it remains the most recognized competition in the spirits industry. The 30 judges included Anthony Dias Blue - President, Blue Lifestyle; Editor-in-Chief, The Tasting Panel Magazine and Executive Director for the SFWSC, Tony Abou-Ganim – SFWSC Judging Director; Author "The Modern Mixologist: Contemporary Classic Cocktails"; and renowned beverage consultant, Audrey Saunders, Co-Owner & Mixologist of Le Pegu Club in New York, Kevin M. Vogt, Master Sommelier &Wine & Spirits Director for Emeril's Restaurants in Las Vegas, Jordan Mackay, Wine & Spirits Editor for 7x7 Magazine, Francesco Lafranconi, National Director of Mixology & Spirits Educator at Southern Wine & Spirits of America, Thomas "Mac" Gregory, Food & Beverage Director at The Phoenician Hotel, Julio Bermejo, Tequila Master & Spirits Buyer at Tommy's Mexican Restaurant in San Francisco and Brian Baker, VP Sales & Marketing at Chateau Montelena.
About Dulce Vida Tequila:
Dulce Vida Tequila has been distilled and aged under the supervision of founder and master distiller Carlos Jurado at the highly respected Ansan Distillery in Santa Cruz del Astillero, Jalisco. Dulce Vida Spirits has established relationships with local growers and secure harvesting rights to the agave fields in and around Tepic, Nayarit, where agave plants are known for being more robust and flavorful. Dulce Vida is a committed community partner in Tepic, and strives to play a role in the well being of the region.
Currently available only in Texas through Glazer's Distributing, Dulce Vida plans to expand nationally throughout 2010. Suggested Retail Price for a 750 ml bottle is $40 for the Blanco, $45 for the Reposado, and $50 for the Añejo.
About Dulce Vida Spirits:
Founded in August 2007, Dulce Vida Spirits is based in Austin, Texas. Their first line of tequila was launched in August 2009. The founders of Dulce Vida Spirits are agave and adult beverage enthusiasts. Jeff O'Neal and Richard Sorenson have been involved in the development of organic agave products for the past five years. Charlie Paulette was formerly the Marketing Director for The Gambrinus Company in San Antonio, Texas, overseeing brands such as Shiner Beers, Trumer Pils and Bridgeport Ales.
For more information, please go to http://www.dulcevidaspirits.com
For entire list of participants of the San Francisco World Spirits Competition, go to: http://www.sfspiritscomp.com/results.html
###