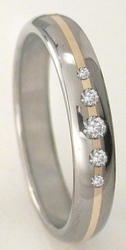 An $8,000 platinum-and-diamond ring you see in a luxury magazine can cost as little as $1,200 when you base it off titanium...
Kihei, HI (PRWEB) March 26, 2010
The reasons for buying a ring are many. An engagement, a gift (like Valentine's Day), sealing a commitment with a promise ring, an association ring (religious, fraternities, clubs, etc) and so on. Choosing the right metal to base the ring on should be the first consideration when deciding what to buy.
Jewelry designer Eric Pless has been working with all metal types for decades. Titanium is his personal favorite and he currently works with it more than any other metal.
"My first question to a buyer looking for a ring is whether they've heard of titanium. Titanium is superior to other jewelry metals in literally every way and not many people know that."
The most common jewelry metal used today is still gold, and there are many upshots to it, like corrosion-resistance and its classic visual appeal. However, it is prone to dents, scratches and deterioration and is currently overpriced due to enormous numbers of people investing in gold as a security against currency devaluation.
Other popular choices are silver and platinum, but these also have their downsides. Silver tarnishes, and must be consistently maintained. Platinum is durable, but scratches easily. Recently, its hazardous nature to humans in large doses is being examined by government health agencies around the world.
"Titanium is like the antidote to everything that is wrong with other jewelry metals," jokes Pless. "It's the strongest, lightest, most corrosion-resistant, and is completely hypoallergenic [bio-compatible]. It's also cheaper, while still being a sublime silver metal that you can pass down from generation to generation."
Pless notes that the problems with the other metals can be nullified if they're combined, or "inlayed," with titanium. For example, gold can sit inside a titanium channel on a ring to flaunt its color, while at the same time reaping all the benefits of titanium. In regards to gold, the biggest benefit is that it's protected from the wear-through that most gold rings eventually succumb to.
Meanwhile, savvy buyers are catching on to the unique advantages of titanium. One of the latest strategies is to comb catalogs and magazines for ring designs they like, and then have a smaller, specialized dealer like TiRings (http://www.tirings.com) recreate the design in titanium.
Pless: "An $8,000 platinum-and-diamond ring you see in a luxury magazine can cost as little as $1,200 when you base it off titanium. The cherry on the cupcake, though, is that now you have a one-of-a-kind, handmade titanium diamond ring, and that can fetch an appraisal well and above what you paid for it in the future."
# # #