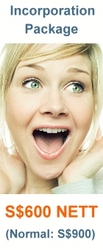 (PRWEB) March 27, 2010
BizCorp unveiled today its Singapore Company Registration Guide 2010, which aims to provide a one-stop location for anyone keen in finding all the necessary information about incorporating a company in Singapore. The free guide applies to both local Singaporeans, as well as, foreigners who want to operate from overseas and also those who intend to migrate here.
Aptly called Company Registration Singapore, the guide provides a myriad of relevant information, from the benefits of operating a business in Singapore to the statutory requirements of company incorporation and a to-do list after a successful registration. The guide also describes in details the step-by-step process, from online company name application to approval by Singapore regulator, ACRA.
In conjunction with this event, BizCorp is currently running a limited-time promotion for its Company Incorporation service, with fees starting from S$600 – a steep 33% discount from the usual S$900 for the basic company incorporation package.
"From our research, we found that many aspiring entrepreneurs are intimidated by the perceived bureaucracy, not knowing that the company registration process in Singapore is actually quite straight-forward and that you can incorporate a company as quickly as within a day. We hope to allay their fears by educating them through this free guide", explained Jason Chen, CEO of BizCorp.
In addition to incorporation services, BizCorp provides related corporate services including nominee director services, local virtual office address and migration services for foreign business owners. The company also provides corporate secretarial services, as required under Section 171 of the Singapore Companies Act.
BizCorp also provides CPA accounting and auditing services through its associate company, Trustnet Alliance – currently, a leading certified public accounting firm in Singapore. The fee for accounting services for businesses with low volume transations start from just S$300 a month, while auditing services for a small-sized company begin from S$1,000.
About BizCorp
BizCorp is a Singapore-based Company Incorporation specialist. Through its affiliated group of companies, BizCorp also provides a range of related corporate services by qualified professionals, from accounting and auditing to income tax advisory, and Employment Pass and Singapore PR application. For more information, please visit http://www.bizcorp.com.sg
# # #