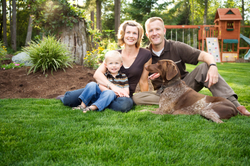 There is no doubt that an increasing number of families are elevating 'lifestyle' to the top of their 'must-have' list.
(PRWEB) March 28, 2010
With so many Australian families seeking a work/lifestyle balance, the release of rare one acre lots of land just 70 km from the country's largest city could not have come at a better time. Nestled in the foothills of The Great Dividing Range, "Silverdale" has evolved from a farming community to an idyllic family-friendly locale.
The Silverdale area is still host to many small farms, market gardens and horse studs – testament to the fertile land and clean air that is so highly prized in these environmentally aware times.
That such an idyllic and peaceful setting could boast magnificent distance views to the Sydney CBD is hard to imagine– but seeing, as they say, is believing.
Dream Homes And Relaxed Living
Representing the vendor, highly-regarded Australian auctioneer, Louise Purtle, has an intimate knowledge of the Silverdale district and the surrounding rural and residential areas .
"These one-acre lots are large enough to build a magnificent home, with enough room for the whole family. Home sites of this size will comfortably sustain a pool, tennis court, organic vegetable garden and workshop" says Purtle.
"There is no doubt that an increasing number of families are elevating 'lifestyle' to the top of their 'must-have' list. Acreage for sale, Sydney so close by, make the dream of commuting from a semi-rural environment a reality."
These pristine acres (http://sydneylandsale.com) can connect to broadband, town water, electricity and environmental envirocycle. They back onto Scotchy's Creek.
Established Services
Silverdale is a modern township with an established shopping centre with local service businesses including supermarket, café, beauty, chemist and professional services.
The presence of garden, building and rural supplies is a key indication of the growth of this area, which is popular with both families and those wanting more than what the average suburban block can accommodate.
Nearby Attractions
Silverdale is located near the catchment for Sydney's water supply, Warragamba Dam, which celebrates its 50th Anniversary this year. It is surrounded by graded walks, picnic areas, market gardens, horse riding, and even a secret swimming hole.
Looking to the future
Boutique tourism and farm-gate opportunities are emerging as worthwhile enterprises in the area, and Bed & Breakfast establishments are ideal for lots of the size now being offered in Silverdale by Ms Purtle.
The Rural Lifestyle at Silverdale
Silverdale offers a lifestyle that the whole family will enjoy – can you imagine:

Designing and building your dream home
Keeping the kids happy with a sparkling pool all summer long
Loads of room for your favourite pets
Starting your own organic vegetable garden and orchard
Keep Dad happy with a new large shed
A wide range of adventure and nature based activities at your doorstep
Having all of this yet being approximately one hour from Sydney CBD
The Lifestyle Choice Has Never Been Easier
The Silverdale one acre lots are a rare offering (http://sydneylandsale.com). When it comes to land for sale, Sydney has for many years been limited to the quarter-acre suburban block.
Purtle believes that lots such as these will appeal to astute buyers. "Huge home sites such as these, just 70 km from the Sydney CBD – and just 25 minutes from Penrith City – are like real estate gold."
To learn more about this rare Sydney acres real estate offering at http://sydneylandsale.com
About Silverdale
Silverdale is a historic area with a rural lifestyle. It is 450 feet above sea level, and is approximately 1 hour from Sydney and Bondi Beach, 45 minutes from the Blue Mountains, 1 hour from Wollongong and 25 minutes from Penrith.
Although Silverdale began its life as a farming area it now boasts a population of 3272 people. It is situated in the Shire of Wollondilly which covers an area of 2560 square kilometres and has spectacular views to the Sydney city skyline.
About Louise Purtle
Louise Purtle is the owner of Sydney Auctions Pty Ltd and is a licensed auctioneer, specialising in Real Estate and goods and chattels). Also a licensed stock and station agent, Purtle has developed a long lasting relationship with people and property in near-Sydney regional areas.
With diplomas is both Real Estate, Business Management and Strata Management, she has been involved in selling rural and residential real estate since 1986. As a supporter of worthwhile causes, Purtle has raised over $3 million in charity auctions over the last 12 years.
# # #