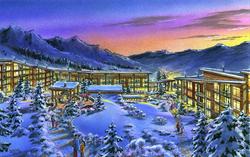 The credit crunch has resulted in a vast decline in quality off-plan developments at reasonable prices, so we are delighted that two of the biggest names in the Alps have joined forces to offer first class ski real estate with management options attached
(PRWEB) March 28, 2010
Erna Low Property is delighted to announce the launch of Edenarc 1800, the new 4* project by Sotarbat 360. This thoughtfully designed development holds a phenomenal location in the popular French ski resort of Arc 1800. Edenarc 1800 will be ideally situated on a ridge in the upper part of the resort and will therefore offer astounding 360 degree views of Mont Blanc, the valley and the slopes.
This ski-in ski-out, completely pedestrian development will consist of 252 apartments across two residences. A third building will hold a hotel with 40 lock-off apartments with two bedrooms each. The development will boast a range of facilities including an indoor pool complex at the heart of the resort.
The style of the project is very much in keeping with the area, with a great amount of detail in the design and materials used. A classical, regal and traditional approach has been adopted for the interior, concentrating on Savoie history. Offering ski-in, ski-out access to 425km of slopes of the world famous Paradiski domain, the resort also has direct access to a world-class 18 hole golf course in the summertime, making this development a true year-round resort. Edenarc 1800 will further benefit from a privileged connection to the services, boutiques, and amenities of Arc 1800. Also planned is a fitness area with panoramic windows to maximise the spectacular views of the mountains. Other facilities will include conference room, children's club, cable TV and Wi-fi throughout. The dynamic position of the development means that there will be slope-front terraces to enable owners and visitors to enjoy the sunshine and the vibrant mountain life. As a fully pedestrian resort, there will be underground parking.
Odalys Vacances will be the management operator for Edenarc 1800. The company is highly experienced in the lodging business and will offer residents complete four-star services including 24/7 centralised check-in, concierge attention and all the conveniences of high end living.
All apartments will be available on the leaseback scheme with owners benefitting from two weeks free usage of the apartment each year, one winter and one summer. Owners will also benefit from a 15% discount off the retail price on any extra bookings made. Rental returns will be a healthy 180€/m2 of habitable area exclusive of taxes.
'The credit crunch has resulted in a vast decline in quality off-plan developments at reasonable prices, so we are delighted that two of the biggest names in the Alps have joined forces to offer first class ski real estate with management options attached' says Joanna Yellowlees-Bound, CEO of Erna Low Property 'Les Arcs is indisputably one of the best alpine resorts offering spectacular skiing across the entire Paradiski area. It will always remain a popular ski destination making a purchase at EdenArc a sound long term investment.'
Prices at Edenarc 1800 start from €189,000 for a 38m2 one bedroom apartment and go up to €712,000 for a 111.30m2 south facing top floor duplex apartment with four bedrooms and fireplace. Completion from December 2011.
Enquiries: Erna Low Property http://www.ernalowproperty.co.uk/edenarc
###