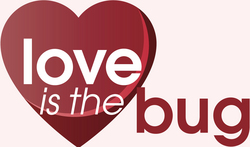 There is no denying that the modern perception of a relationship and marriage is changing and women are leading the drive for this change.
(PRWEB) March 28, 2010
Illicit dating site Loveisthebug.com are once again courting controversy in online dating circles with their latest marketing campaign "YES, YES, YES". Based on a reversal of the infamous "Just Say No" campaign, loveisthebug.com are turning the theme on its head with a message aimed at those in relationships contemplating whether or not using a dating site for married, or attached people is really right for their relationship needs.
The site feels that the time was right for a campaign on this sort of prominence, in an industry previously known for its secrecy and reluctance to be seen in a mainstream format.
"Historically, dating companies aimed at people in relationships have been viewed by society with a mixture of suspicion and derision by the wider market. Sites like loveisthebug.com were blamed for the demise of the relationship and for encouraging people who would otherwise have remained faithful to contemplate finding someone behind the backs of their partners. At the same time, the sites themselves operated on a policy of secrecy to protect members.
In recent years however, as technology and the internet have improved, privacy management has become much easier. At the same time sites like loveisthebug.com have received national attention as the result of a number of surveys held by glossy magazines. These show that professional women in their twenties and thirties are now the most likely to cheat, whereas in the past these sorts of sites were seen as the sole domain of sleazy and sneaky men and wannabe porn stars. I feel this change in the demographic looking at dating illicitly is the one of the biggest motivators behind the attention this sort of site is now getting.
The fact is there is a huge public demand for sites that allow for connections between people in relationships. The common misconception is that this is just for sex, however often, our members tell us that a friendship with someone who understands the issues that they are facing is the biggest attraction to joining the site. This was the motivation for the "YES, YES, YES" campaign. So many of our members are happy with their partners but no longer feel that connection to them as the pressures of life and family take over.
The site is a safe place for them to consider whether or not being unfaithful would be the right decision for them. For those who are engaging in sexual relationships, we allow them to conduct these encounters with a partner who is fully aware of the facts of their lives and both parties enter into the agreement in the spirit of honesty and openness, preventing many unwitting people to commit adultery with a person who feels they have to lie to build a new relationship, whose subsequent sense of betrayal is often what leads to the infidelity being discovered".
One of the biggest issues an illicit dating site must face is the accusation of the encouragement of immorality, but that this is why the "YES, YES, YES" campaign is so important right now.
"There is no denying that the modern perception of a relationship and marriage is changing and women are leading the drive for this change. Our research shows us that women are taking charge of every area s of their life and relationships are no different. Whereas in the past women often stagnated in relationships, denying their sexual and emotional needs in order to protect the status quo and often because of financial dependence, now women are financially independent and are just more unwilling to settle for fifty years of routine and boredom. Even the daytime TV show "This Morning" has covered the issues surrounding illicit dating, during their recent "sex" week and the general consensus from a number of the women they interviewed was that their primary relationships were BETTER and more satisfying as a result of their secondary partnerships."
loveisthebug also has strong feelings on the spate of recent celebrity infidelities. "Men like John Terry and Ashley Cole and women like Angelina Jolie are vilified within the media for their alleged betrayals and often the question that is asked is not why they did it but "why weren't they more careful?".
"Taking John Terry as an example, his relationship history suggests he was always going to be unfaithful but felt because of his public prominence that he had to stick within a close circle, leading to an affair that has caused issues right across his life, including his career. Had Terry considered a more discreet and less close to home liaison with a fully educated partner, the fact is there is less chance it would have caused the damage it did and the England squad would be going into cup matches this summer with a fuller squad, happy to be sharing a pitch.
That is the premise of the "YES, YES, YES" campaign. We want to encourage people to shake of the societal norm and say "YES" to opportunities to explore their true sexual and emotional needs, "YES" to encouraging a greater sense of excitement and freedom within traditional relationships and "YES" to making connections in a safe and fulfilling environment, without it costing the earth. We say "NO" to routine, "NO" to social constraints and "NO" to dissatisfying, forced monogamy for those who want more."
Whether the loveisthebug.com campaign takes off, with over 2 million UK residents now members of illicit dating sites, loveisthebug's perception of the industry certainly has something to it. It will be interesting to see if the next few years really does see the trend for infidelity becoming the new norm within partnerships.
###