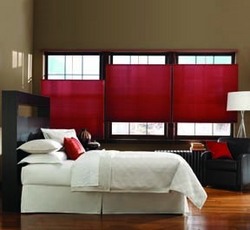 Middleton, WI (PRWEB) March 28, 2010
Windows are considered the weak spot in the home's insulation, as glass doesn't effectively slow the transfer of heat — meaning heat is going out in the winter and coming in during the summer. Cellular Shades can help insulate the windows and provide significant energy savings. To help consumers take advantage of this savings, Bali has launched a new "Energy Calculator" on baliblinds.com that tells consumers how much money can be saved on their energy bill each year by choosing Cellular Shades.
Cellular Shade window treatments, like the ones offered by Bali, provide the ultimate in window covering energy savings. By trapping air in the cell pockets, the shades act as an efficient insulator, similar to how insulation batting works in ceilings and walls. There are single-cell and double-cell shades available. Double Cell Cellular Shades feature two pockets that trap air and offer the maximum amount of insulation.
Tracy Williams of Rainier, Oregon, has experienced the savings first-hand. "We moved into this house just over a year ago and the first heating bill for the month of December was a real shocker. In the living room alone I have 12 floor-to-ceiling dual-glazed windows. It was clear that in order to cut heating costs the windows would need some sort of energy-efficient thermal window coverings. I chose Bali since the shades offered a clean, sleek look, whether up or down, and the way the double cells are designed seemed to be more efficient than other brands. We received our bill in December and were pleased to see the savings. Because of Bali's Double Cell Cellular Shades, our December heating bill alone was lowered by $40.41 compared to the heating bill a year ago."
Bali Cellular Shades can improve the thermal performance of a home by minimizing heat loss and heat gain. This insulating effect reduces energy consumption and lowers energy bills. Not only do Bali Cellular Shades save money and look great, but they also provide the highest sound absorption of any window treatment.
For more information on Bali's Energy Calculator and Cellular Shades and to find a local or internet retailer, visit http://www.baliblinds.com or call (877)792-0002.
About Springs Window Fashions
Bali®, Graber® and Nanik® are brands of Springs Window Fashions, the Best Experience Company. Springs Window Fashions supplies leading retailers and distributors with a complete line of horizontal and vertical blinds, shades, specialty treatments and window hardware. Springs Window Fashions is based in Middleton, WI. To learn more about all our products, visit http://www.baliblinds.com, http://www.graberblinds.com and http://www.nanikblinds.com.
Contact:
Jennifer Modica
Senior Product Manager
608-836-6251
jennifer.modica (at) springswindowfashions (dot) com
baliblinds.com, graberblinds.com and nanikblinds.com
Springs Window Fashions
7549 Graber Road
Middleton, WI 53562-1096
###