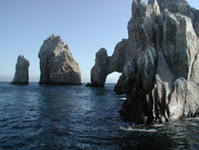 "The new look reflects a regal and relaxing representation of Cabo that both Cabo citizens and those traveling to Cabo can appreciate" says Aleasha Stephens, Director of Public Relations
Cabo San Lucas, MX (PRWEB) March 28, 2010
All About Cabo, an online travel guide to Cabo San Lucas, launched a redesigned look that better reflects the organization's commitment to promoting travel to Cabo San Lucas.
With El Arco, the most notable symbol of Cabo San Lucas, as the cornerstone of the new logo, All About Cabo seeks to capture the spirit of Cabo and help potential travelers better navigate through hotels, restaurants, villa rentals, activities and more.
All About Cabo's new design makes it possible to explore Cabo; from simple research of any subject, to the planning, booking and purchase of tourism packages and services.
Along with the new rustic look comes Cara Gourley, Web Development Director; Aleasha Stephens, Director of Public Relations; and Lauren Sims, Blogger.
The All About Cabo website was founded in 1998 and has been promoting travel to Cabo San Lucas ever since. Iguana Interests LLC purchased the website along with the rest of the All About Family of sites in 2007. Since then they have been working hard to promote and expand the reach of All About Cabo. All About Cabo is dedicated to providing vast, detailed information and assistance to those who like to know all about Cabo, its culture, history, life style and much more.
Iguana Interests expects the new design to roll out on its other 22 sites within the year.
Contact:
Aleasha Stephens, Director of Public Relations
Iguana Interests
888-669-1639
http://www.allaboutcabo.com
For more information: aleasha.stephens(at)allaboutmexico(dot)com or cara.gourley(at)allaboutmexico(dot)com
###