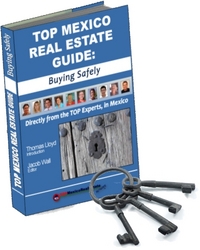 The Top Mexico Real Estate Guide accomplishes something very important – it puts the investor in control of his destiny
Beaumont, TX (PRWEB) March 28, 2010
TOPMexicoRealEstate.com, a network of leading Mexico real estate experts, has just published a unique guide in e-book format for buyers considering property purchases in Mexico. The e-book is called Top Mexico Real Estate Guide: Buying Safely. This guide outlines the basics of how to buy real estate in Mexico safely in clear, simple terms. The format makes navigation and comparison of information easy and convenient.
"The Top Mexico Real Estate Guide accomplishes something very important – it puts the investor in control of his destiny," observes Christopher Hill, CEO for Mexico of Stewart Title Latin America. "In one comprehensive reference source, the potential investor has an abundance of great information to work with – and a great group of professionals to rely on - as he/she moves forward with purchasing property in Mexico."
The new Mexico real estate guide is structured in a FAQ format, with 10 contributing real estate professionals. Each of the six chapters deals with a different aspect of buying real estate in Mexico, and each page includes the answers of one expert. A chapter menu on the left side of the screen allows readers to move from one chapter to another, and a menu of the contributing experts (with pictures for easy reference) allows readers to compare the answers to the same questions from various experts.
"The 'Guide' ... puts names and faces as reference points," comments Hill concerning the structure of the menu, explaining that this feature is useful "for additional follow-up, more detailed information and/or clarification."
An introduction from Thomas Lloyd, founder and president of TOPMexicoRealEstate, and compiler of Top Mexico Real Estate Guide, is included for each chapter. The guide also includes an introduction and conclusion to the book as a whole, also from Lloyd. The introductions give a summary of the content, and point readers to answers of special interest from the experts.
"Here we have a team of Mexico's top real estate professionals ... telling how to do it properly and safely, " says John Glaab, Certified International Property Specialist (CIPS) and Vice President, International Marketing in the Settlement Company. "We still need a lot more education. This book tackles that issue head on."
Glaab goes on to comment, "Every person involved in the industry should read and study this book. In so doing they will be able to answer clients' questions in a true and professional manner."
The new real estate book was released on the TOPMexicoRealEstate.com website on Friday, March 19. It is currently being offered in a 81 page PDF format readable with the Adobe Reader. The file can be downloaded in about 2 minutes (on an average internet connection speed.)
"This is information that we want everyone interested in buying property in Mexico to have," says Lloyd. "The more people realize that there are clear approaches on how to buy real estate in Mexico safely and securely, the more people will take advantage of all the benefits which buying in Mexico offers, whether for a second home, or for investment purposes."
Top Mexico Real Estate Guide: Buying Safely is the first volume of a series. Future volumes will deal with specific aspects and reasons to buy real estate in Mexico, such as retirement and investment.
TOPMexicoRealEstate NETWORK; Mexico's Leading Network of Specialists for Finding and Purchasing Mexican Properties Safely
# # #