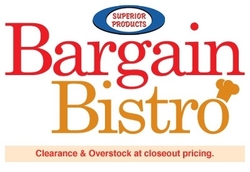 The Bargain Bistro highlights value without sacrificing quality, which is important when restaurant owners are looking to improve the efficiency of their kitchens
St. Paul, MN (PRWEB) March 29, 2010
Commercial kitchen equipment doesn't have to be expensive. Superior Products stands by its commitment to provide high-quality, low-cost equipment by introducing Bargain Bistro, a quick way to learn about hundreds of clearance products.
"The Bargain Bistro highlights value without sacrificing quality, which is important when restaurant owners are looking to improve the efficiency of their kitchens," says Steve Grosshans, Director of Category Management.
The Bargain Bistro is a section of Superprod.com that features a large selection of commercial cooking equipment offered at close-out pricing. Clearance items are updated regularly, allowing shoppers to find deals on a variety of large and small restaurant appliances. Shoppers can also sign up for e-mail updates to learn about clearance products.
Superior Products is a commercial kitchen equipment supplier that offers solutions that deliver efficiency and value. As a trusted industry leader since 1935, our in-depth product knowledge makes our professionals valuable business partners.
###