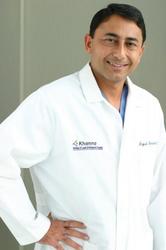 Beverly Hills, CA (Vocus) March 27, 2010
The Malibu golf classic is one of the pivotal events that work to represent the Women in Film Foundation. The event will take place on July 10, 2010 in beautiful Malibu, California and will consists of; golfing, contests, and prizes followed by an evening of cocktails, dinner and an auction benefiting the foundation. In the past numerous celebrities have participated and shown their support for WIF members.
Past celebrity guests include; Jane Seymour, Martin sheen, and Betty Thomas. Attending the Malibu golf classic this year is Dr. Rajesh Khanna an accomplished lLASIK and Eye surgeon in the Beverly Hills area.
Rajesh Khanna, MD supports the Women in Film foundation and identifies with their goals to help others. Dr. Khanna has been helping people with vision impairments for over 20 years, including patients that are legally blind. Dr. Khanna helps patients regain their vision and their confidence. The doctor recognizes the importance in giving women the opportunity to follow their dreams and to succeed in the entertainment industry.
The power and prestige of the Woman in film organization is recognized world wide. WIF is a non profit organization dedicated to helping women achieve their highest potential in entertainment, communications, and media industries. The Women in film organization was founded in 1973 and have since worked to preserve the legacy of the women within these industries. The WIF is based in Los Angeles and provides their members with a variety of services including; numerous educational programs, scholarships and grants.
The WIF also provides their members with an extensive amount of useful contacts, participation in mentorship programs, and access to employment opportunities. WIF is a remarkable organization that works to help women recognize and accomplish their goals within the film and entertainment industries. They encourage future generations of women to pursue careers in the entertainment industry and provide the support needed for those embarking on their careers.
Dr. Rajesh Khanna, as you may know, is a Refractive Cataract surgeon in Los Angeles. He is the founder and medical director of The Khanna Institute of Lasik and Refractive Surgery. Dr. Khanna is one the pioneers of Lasik eye surgery and is currently at the forefront for advanced eye procedures. He is an experienced and skilled Wave front LASIK, PRELEX and cataract surgeon, today he has performed over thousands of eye procedures on patients all over southern California Dr. Khanna has performed vision enhancements on many celebrities and athletes alike, those we are able disclose include actor Corbin Blue from High School Musical, Disney channel star Brenda Song and Bas Rutten MMA and UFC champion fighter Contact: Kelly Schneider Rajesh Khanna, MD Khanna Institute of Lasik Surgery 240 S La Cienga Blvd Beverly Hills 90211 Phone: 805-230-2126 Fax: 805-230-2199 http://www.khannainstitute.com.
###