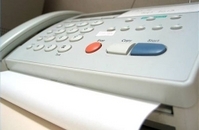 Chicago, Illinois (PRWEB) April 1, 2010
The fax machine is something still found in many offices, but if those who travel frequently for business will noticed that one doesn't see them quite as often as in years past. As a matter of fact, the fax machine, the loyal communications workhorse of businesses worldwide, has been quietly put to pasture by a growing number of companies, replaced by a newer generation of electronic communications technologies. Fax to email services have been taking the place of these once ubiquitous pieces of office equipment; and the Chicago-area company MaxEmail is offering businesses the opportunity to get on board with a special 30-day free trial of their fax to email services.
The company knows that once businesses try fax to email technology, they'll want to make the switch and adopt this more convenient alternative to conventional fax machines. Many businesses have already decided to start using online fax services as a cost saving measure, as well as a matter of convenience. There's no phone line to pay for, since transmissions are done via the web; and there's no toner or thermal paper to purchase, since users can print only those faxes which they actually need to. Internet fax services are also accessible from any location with an Internet connection, making them ideal for business travelers tired of searching for fax machines in an unfamiliar city.
This cleaner, greener and less costly technology is something which companies are increasingly warming to. Fax to email, along with voicemail to email technologies, looks poised to herald a paradigm shift in the way that business communications are done. For anyone who's been watching these developments and waiting for a chance to give this new technology a test drive, MaxEmail's special 30-day fax to email free trial offer is the opportunity they've been waiting for.
For more information about MaxEmail's 30-day free trial offer, please visit: http://www.maxemail.com
Media Contact:
MaxEmail
http://www.maxemail.com/max/cgi-bin/support.cgi?action=m_support_form
# # #