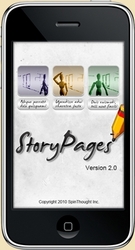 "We have extended StoryPages 2 to the iPad where the larger form factor is absolutely ideal for illustrated story creation"
Boston, MA (PRWEB) March 28, 2010
Accomplished mobile application creator, SpinThought announced today it would be one of the first companies to offer their app (StoryPages 2) on the iPad. Programmed by iPad Developer Zco Corporation, StoryPages 2 helps iPhone and iPad users to create illustrated stories on the go.
The StoryPages 2 application allows users to create illustrated storyboard-style pages using photos, drawings, and text. Projects can include comics, children's books, architecture, landscape design, help manuals and any project where words are enhanced with illustration. Through its unique and easy to use interface, the application rapidly lays out drawings and associated text, including anything needed to describe a photo or drawing. Your custom StoryPages can then be delivered via email as a PDF, exported to the Photo gallery and sent via MMS, or imported to your desktop as PNG files.
"Based on the success of StoryPages, we were able to add new features and release StoryPages Version 2 in February 2010." says SpinThought's CEO and Founder Ben Kopf. "Now, we are excited to announce we have extended StoryPages 2 to the iPad where the larger form factor is absolutely ideal for the illustrated story creation concept behind our product." SpinThought was able to team up with iPad Developer Zco Corporation to ensure StoryPages 2 was ready for the iPad launch on April 3rd, 2010. "Our relationship with the excellent project management and development teams at Zco made the product transition to the iPad far easier and faster than we could have imagined. They did a fabulous job."
The new features in StoryPages 2 include:

Full-screen landscape or portrait drawing modes
One-tap access to colored pencils, an eraser and the Photo gallery to set backgrounds
Undo and redo support in drawing mode
Intuitive compass-direction navigation between modes and pages with a simple swipe of a finger
Full transparency control over background images to use as tracing templates for non-artists
Story list view for easy title editing, deletion and access to stories
Natural looking storyboard-style pages with the drawing area at the top and the text description area at the bottom
Page grid view for drag-and-drop page rearrangement using thumbnails that show the entire story
Full help documentation to get users started quickly
These features in full screen on the iPad are sure to captivate a user's storyboarding imagination! Details on where to download StoryPages 2 for the iPad will be available on the official launch date next month. StoryPages 2 is currently available for the iPhone & iPod in the iTunes App Store for $2.99. Video Demo at: http://bit.ly/bFbxAs
About SpinThought:
SpinThought is the creator and designer of several mobile applications including StoryPages 2, ThumBrowser for the iPad, QuizBuzzer, BigTimer, RecordBoard, and RecBoardLT. SpinThought also has over 15 years of design experience on web-based applications and UI designs for businesses and consumers. http://www.spinthought.com or twitter.com/spinthought
About Zco Corporation:
Now in its 20th year of service, Zco Corporation specializes in Custom Software Development and Mobile Website Optimization. Zco is one of the largest in the world for Mobile App Development on any mobile device including the iPhone, iPad, Android and Blackberry. They have recently extended their services to offer affordable SEO and Digital Marketing Services. http://www.zco.com
###