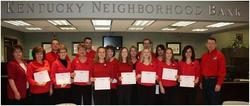 We've paid out over one million dollars to save military family homes from foreclosure in the past three years
Elizabethtown, KY (Vocus) March 30, 2010
USA Cares has launched a new education course designed to provide loan officers with a clear understanding of how to work with military clients. Kentucky Neighborhood Bank is pleased to have the first graduates of this new program and among the first banks to offer this level of expert customer service to military men and women. Through the USA Cares Military Family Housing Lender Education Program - accessed online at http://www.usacares.org - the Participating Lender Course provides the tools and knowledge needed to effectively work with military borrowers, especially in a fast-paced and competitive market. It also includes timely advice for lenders regarding foreclosure prevention.
"This course aims to put greater numbers of military families into affordable homes through knowledgeable lenders who understand the unique circumstances brought about by military service" remarked USA Cares Executive Director Bill Nelson.
The course helps lenders makes sense of the military language, rank and pay system. It even outlines what happens when a service member is injured, and explains how their pay will continue during hospitalization and treatment. Earning the Certificate of Completion for the Participating Lender Course indicates a significant knowledge base that active duty service members and veterans can rely on for prompt and accurate service of their housing needs. Certified Participating Lenders will adhere to specific Standards of Practice, representing a commitment to provide quality service to military borrowers.
USA Cares is no stranger to supporting the homeownership goals of military families. "We've paid out over one million dollars to save military family homes from foreclosure in the past three years," said Jennifer Robinson, USA Cares Director of Assistance. "This new effort will help reduce the need for such assistance by supporting military borrowers and their lenders as they work together to make affordable and sustainable housing decisions."
About Kentucky Neighborhood Bank
KNB opened its doors in 1997 to meet the banking needs of customers who prefer to work with a locally owned community bank. That coupled with the growth of the Hardin County area led investors to the conclusion that a locally-owned community bank was a sound business decision. KNB offers a wide range of products and services including Consumer Loans, Mortgage Loans, Deposit Products and much more with the mission to help others be successful in reaching their goals.
About USA Cares
USA Cares is a nonprofit 501(c)3 organization that helps post 9/11 military families bear the burdens of service with financial and advocacy support. Its mission: To help with basic needs during financial crisis, to assist combat injured Veterans and their families and to prevent private military home foreclosures and evictions. In six years, USA Cares has received over 21,000 requests and responded with more than $6.7 million in grants. Military families anywhere in America can apply for assistance through the USA Cares web site, http://www.usacares.org/ or by calling 1-800-773-0387. For more information on USA Cares contact John Revell, jrevell@usacares.org or call (270) 352-5451 x101.
###