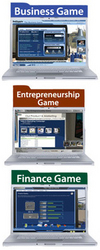 EAU CLAIRE, Wis. (PRWEB) March 30, 2010
Do students know what it takes to run a profitable, successful business? Helping educators answer this question, Realityworks, Inc., announces the launch of its Business Education Simulations for high school students. The simulation series will be featured at the National Business Education Association (NBEA) 2010 Annual Convention, Mar. 30-Apr. 3, at the San Diego Marriott Hotel & Marina in San Diego, Calif.
The Business Education Simulations apply key business concepts taught in class to a series of three online games, testing students' knowledge of successful business strategies. Students create their own company and product, and participate in simulations, including:

The Business Game
The Entrepreneurship Game
The Finance Game
The Business Game applies sales strategies to students' daily company activities, and challenges them to counter market competition by using report data to maintain a lucrative business within their selected industry. The Entrepreneurship Game encourages students to draw on market research to inform marketing tactics and promotions vital to their start-up. The final simulation, The Finance Game, provides students with profit and loss statements, and other corporate performance reports, allowing them to review their business' financial well-being and make changes to improve the bottom line.
The Business Education Simulations focus on performance, requiring students to build relationships with simulated mentors and co-workers through daily interaction using e-mails and video phone calls. Each decision results in authentic business outcomes, challenging students to think critically about their next steps as they review sales reports and other performance indicators.
Students are able to work through a multi-year simulation of their business in as little as 45 minutes, or simulations may be extended to cover a one-semester course. Aligned to National Business Education Association standards and curriculum topics, the Business Education Simulations include teacher guides to help instructors use the product effectively in the classroom and measure student performance. Educators can assess student comprehension using pre- and post-tests to provide individualized evaluations.
Starting at less than $1,000, a site license includes unlimited access to the series of three Business Education Simulations.
During the convention, Realityworks will introduce the Business Education Simulations at booths 605-607, where NBEA attendees will have the chance to win a year site license for the series. In addition, the company will host a "Business in Action" session on Thursday, April 1 at 2:30 p.m., entitled "Simulations for Personal Finance and Business Education." For more information on the NBEA 2010 Annual Convention, visit http://www.nbea.org/conference.html.
For more information on the Business Education Simulations, visit http://www.businessedsims.com, or contact a Realityworks Product Consultant at 1-800-830-1416.
About Realityworks, Inc.
Realityworks, Inc., the leader in education simulation technology, was founded in 1994. Its award-winning products provide students with realistic learning experiences, and are used by educators in Career and Technical Education, Family and Consumer Science and Health courses, as well as in other instructional settings worldwide. For more information, visit http://www.realityworks.com, or call toll free at 1-800-830-1416.
# # #