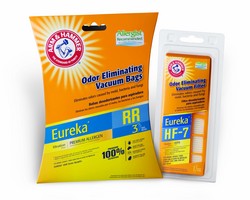 "We can't control allergens and asthma triggers outdoors, but we can create cleaner homes indoors to give our families a respite from the growing number of irritants in the air."
Bloomington, IL (PRWEB) March 28, 2010
The arrival of spring brings many reasons to celebrate. Unfortunately, sinus problems may not be one of them. For many, spring may be accompanied not only by picnics and sunny skies, but by stuffy noses, runny eyes and sneezing as spring allergens populate the air.
"We can't control allergens and asthma triggers outdoors, but we can create cleaner homes indoors to give our families a respite from the growing number of irritants in the air," said Leiah Miller, product manager for ARM & HAMMER® vacuum accessories.
Miller offers the following suggestions for the ridding of spring allergens in the home:
Change Vacuum Filters
A new vacuum filter helps maintain your vacuum's suction power to trap and contain extra dirt tracked in by pets and houseguests. Allergist-recommended ARM & HAMMER vacuum bags and filters offer HEPA filtration, which keeps 99.97 percent of small particles like dust, pollen and pet dander from being re-introduced into the air.
Developed with the natural power of ARM & HAMMER® Baking Soda, these vacuum accessories safely and naturally absorb and neutralize odors caused by mold, bacteria and fungi, along with dust or dirt – eliminating the need for chemical deodorizers or scented candles that can further agitate allergy symptoms.
Dust with an Allergen-Absorbing Cloth
Dust more often in the spring than you might during other seasons to give your sinuses some much-needed relief. When dusting, use a microfiber cleaning cloth that picks up and absorbs dust and other allergens instead of just moving them around. For added protection, use a face mask when you clean to keep from triggering allergies.
Wash Bedding in 140-Degree Water
Alleviate seasonal allergies that can creep up while you sleep by washing all bedding in 140-degree hot water at least twice weekly to eliminate dust mites, pet allergens and pollen. Use dust mite covers for your mattresses, pillows and comforters to further protect yourself and your family. It also is recommended to shower at night before bed because people often bring pollen and other spring allergens into their homes and onto their sheets at the end of the day.
ARM & HAMMER vacuum bags, filters and accessories are available exclusively at Walmart and walmart.com. For more information, consumers can visit http://www.armhammervac.com.
ARM & HAMMER vacuum accessories offer more than 120 styles made to fit nearly all brands and models of vacuum cleaners. The vacuum accessory line is distributed by Electrolux® Home Care Products, Inc., the producer of leading floor care brands Eureka® and Electrolux, in cooperation with Church & Dwight Co., Inc., owner of the ARM & HAMMER brand.
ARM & HAMMER, the ARM & HAMMER logo and the distinctive yellow trade dress are trademarks of Church & Dwight Co., Inc.
About Electrolux Home Care Products, Inc.
Electrolux is a global leader in household appliances and appliances for professional use, selling more than 40 million products to customers in more than 150 markets every year. The company focuses on innovations that are thoughtfully designed, based on extensive consumer insight, to meet the real needs of consumers and professionals. Electrolux products include refrigerators, dishwashers, washing machines, vacuum cleaners and cookers sold under esteemed brands such as Electrolux, AEG-Electrolux, Eureka and Frigidaire. In 2008 Electrolux had sales of USD $15.9 billion and 55,000 employees. For more information go to http://www.electrolux.com/press
About Church & Dwight Co., Inc.
Church & Dwight Co., Inc. manufactures and markets a wide range of personal care, household and specialty products under the ARM & HAMMER trademark and other well-known brand names.
###