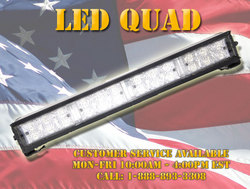 The Brightest Strobe Lights and Light Bars
Jupiter, FL (PRWEB) March 28, 2010
After years of first responders bearing not only the responsibility of preserving the peace and saving lives but paying exorbitant fees for their equipment, Extreme Tactical Dynamics offers a varied selection of police lights and light bars at an affordable price. With a fully interactive website and telephone customer support, those shopping for the brightest and best emergency LED lighting will have access to both the expertise and products they need. Other lighting companies place too much emphasis on making a profit, and not enough on serving the community. Extreme Tactical Dynamics believes in manufacturing quality light bars at a price that is reasonable, and not artificially inflated.
Extreme Tactical Dynamics manufactures LED deck, dash and visor lights with a host of different options to suit a first responder's needs. Depending on the specific light bar, they offer a variety of different color ranges. In an inspired touch, the company's website provides videos demonstrating not only the color range and size of the police lights, but the programmable patterns of flashes of the strobe lights, from alternating to simultaneous. Shoppers can determine exactly what they're buying. Different units come with different numbers of pre-programmed flashes; check each light bar to see how many patterns can be programmed.
Brightness is a crucial factor in identifying your intent and your vehicle. Extreme Tactical Dynamics offers the brightest LED police lights in the field, with each product pre-tested and ranked for luminosity. Many of their products contain the Generation 3 total internal reflectivity LED bulbs, which are the brightest bulbs in the emergency vehicle lighting industry. From full size light bars to 5" removable optics, they offer every conceivable police light at an affordable price.
Additionally, their company stocks an unbeatable array of specialized accessories, including tactical vests, tactical flashlights, and holsters. Mount your light bar in the formation that best matches your vehicle's set-up with customizable framing and mounting brackets. They also carry remote sirens and a strobe tube kit with a 90 watt power supply and twelve foot wiring harnesses for each bulb.
Extreme Tactical Dynamics provides a full range of high-quality police lights and light bars for dedicated first responders. Let them help you help others.
###